Friday, June 19, 2020 / by Teresa DiPeso
The coronavirus pandemic — coupled with historically low mortgage rates — is motivating a majority of homebuyers to purchase a home in the coming year, according to results from LendingTree's latest survey.
The LendingTree surveyed over 1,000 prospective buyers about their plans to jump into the housing market – or not. The results indicate that 53% of all homebuyers are more likely to purchase within the next year.
How COVID-19 has impacted home buyers' timelines
1. Record-Low Mortgage Rates
Mortgage interest rates have dropped considerably this spring and are hovering at a historically low level. This is a huge motivator for purchasing in 2020, especially among first time home buyers and millennials. Low mortgage rates are the #1 incentive to purchase in 2020 among survey respondents. 67% of those more likely to purchase this year are incentivized to purchase based on the historically low rates.


Reasons many buyers are more likely to purchase a home in the next year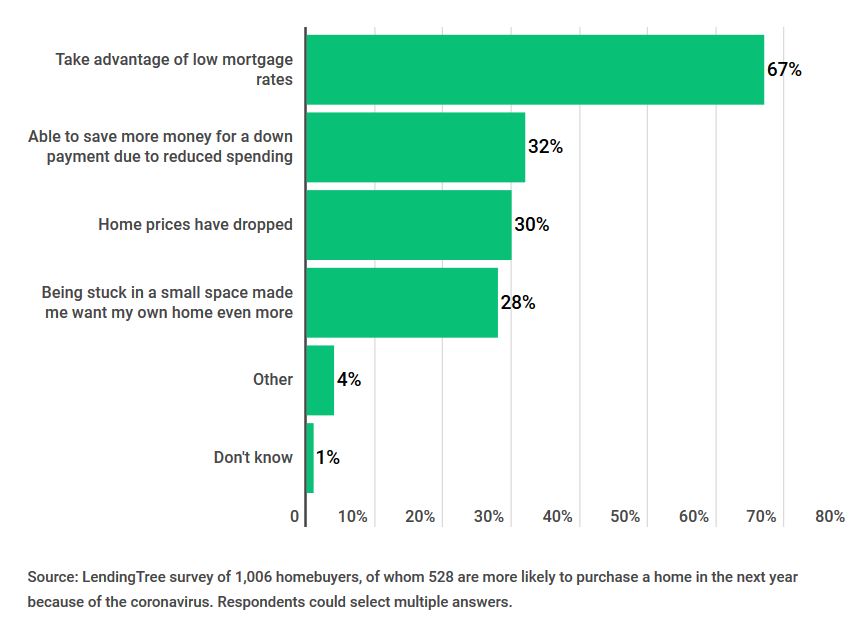 2. Reduced Spending Due To Coronavirus
The coronavirus pandemic has restricted many individuals and families to their homes allowing them to reduce spending and save for a larger down payment. With the majority of states enforcing a shelter in place, many have found themselves minimizing extra spending such as social outings, impulse buying, commuting expenses, etc. making the home buying process more affordable today.
3. Time To Reevaluate Living Space
Again, with how much time buyers have been spending at home, they have been given the chance to really evaluate their living spaces. 28% of survey respondents said that being stuck in a small space made them want their own home even more. With more available time to map out what they really want in their next home, many are looking for more square footage and a more spacious neighborhood.



Courtesy Neighborhood Connection