Tuesday, June 1, 2021 / by Teresa Dipeso
NJ.com put out their list of the 25 Best Shore Towns and four in Cape May County made the list! This is a very controversial list, as the author points out below, with hallmarks like Stone Harbor and Avalon not making the cut! The number one ranking went to Port Republic on the Delaware River.

Here is what the author had to say about the list, the Cape May County towns and their overall ranking in the top 25:

In the best and worst of times, there is something about all that water, and sand, and sky, that beckons.
We all have our favorite beaches — and towns. Here is my list of the 25 best Shore towns. There are 100 or so places that could call themselves Jersey Shore towns: those on or within reasonable distance of the ocean, from Highlands to Cape May. Those would include sections of larger municipalities, the Ocean Groves, Bayvilles and Manahawkins of the world.
What factors went into this ranking? Live-ability, charm, curb appeal, shopping, neighborhoods and food scene, among others. In the end, it came down to, "Could I live here, and live here a long time?'' For each town, I give a brief rundown — history, description, appeal — plus a list of must-visits. Many extremely popular and hyper-publicized Shore towns did not make the list — sorry about that. Let me be clear: This is not a ranking of the best Shore towns to visit as much as the best towns to live in. And you don't need to have an ocean beach to qualify as a Shore town. My top-ranked town is one you've probably never visited.
6. Cape May


(Cape May Victorian B&B)
Cape May is one of the nation's Victorian jewels and the Jersey Shore's most romantic town, with its postcard-pretty inns/B&Bs and generally unhurried manner. And what other Shore town allows you a grace period on your expired meter? "The Nation's Oldest Seaside Resort" is named after Dutch captain Cornelius Jacobsen Mey, who explored the area in the early 1600s. There are free movies on the beach, and several acclaimed music festivals.
Visit: Emlen Physick Estate; Mid-Atlantic Center for the Arts and Humanities; Washington Street Mall (pedestrians only); the Mad Batter; Hot Dog Tommy's; C-View Inn.
10. Wildwood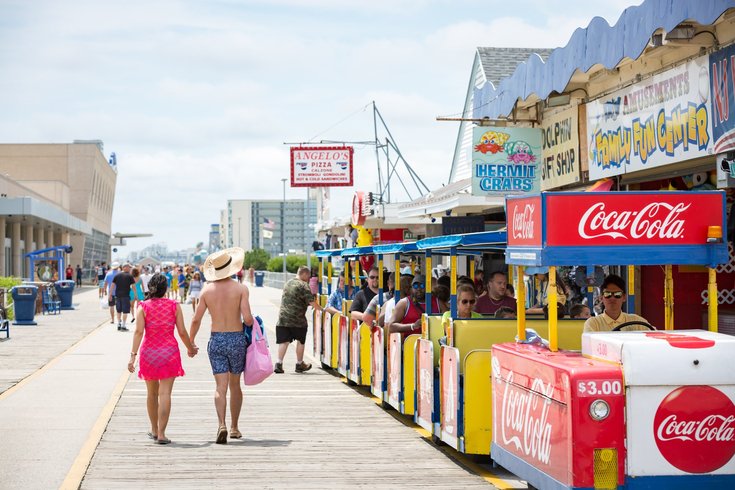 (Wildwood Boardwalk)
The greatest boardwalk of all time is in Wildwood, and that alone puts this town on this list. Wildwood has long been Philadelphia's summer playground. In 1909, more than 1 million postcards poured through the post office in the Wildwoods, named for the island's tall trees and thick vegetation. Ocean Pier, distinguished by two 100-foot-high turreted towers, was renowned.
The state's only boardwalk chapel is here; it's called — what else? — the Boardwalk Chapel. Ride the Ferris wheel at night, above the boardwalk's neon-lit magnificence. It's an essential Jersey Shore experience.
And let's not forget the famous (or infamous) Wildwood tram car. The five most annoying words of any Jersey Shore summer — "Watch the Tram Car, Please" — play on tape as the yellow cars rumble down the boardwalk. The voice belongs to Floss Stingel, who recorded the announcement in 1971.
Wildwood is more than the boardwalk, of course; the town sports its share of shops, hotels, restaurants and ice cream stands.
Visit: Lime Ricky World (for a great non-alcoholic refresher); Sam's Pizza Palace (one of the best boardwalk slices); bocce courts at Leaming Avenue and the boardwalk (a classic Jersey Shore late-night experience); Kohr Bros.; Jake's Steaks.
11. West Cape May


(Beach Plum Farm)
No, not Cape May, but sleepy West Cape May, where 1,020 people live at the end of Jersey. Drive down Sunset Boulevard, past the Chattel House Village series of shops (Exit Zero Magazine, The Bird House), past the Nature Conservancy's South Cape Meadows (great bird-watching spot and a mile of protected beach) to Sunset Beach in Lower, home of a touching evening flag-lowering ceremony and the state's spookiest attraction — the concrete ship Atlantus, which sank in 1926.
Visit: Beach Plum Farm; Willow Creek Winery; South Cape May Meadows (in West Cape May and Lower Township). The Bread Lady — Elizabeth Degener — and her Enfin Farms roadside stand is on Sunset Boulevard in Lower.
18. Ocean City


(Ocean City Fall Block Party)
"America's Greatest Family Resort" is the official town slogan, and Ocean City has also been called "America's Happiest Seaside Town" (Coastal Living magazine). The town started, like Ocean Grove, as a Methodist summer resort. The Rev. William Wood, president of the Ocean City Association in the 1880s, set the tone early on: "Let us not falter: Order and decorum must be maintained." Ocean City is one of two "dry towns" at the Shore along with Wildwood Crest.
The boardwalk is impeccably maintained. In town, fuse boxes and garbage cans have been painted and turned into whimsical works of pop art. Here you'll find the Shore's most jam-packed schedule of summer events — from concerts and beauty pageants to french fry-sculpting contests and the Miss Crustacean Pageant, where hermit crabs are dolled up in tiny costumes and paraded on miniature floats. The Ocean City Baby Parade, the single greatest spectacle at the Jersey Shore, is held every August; it's scheduled for Aug. 12 this summer.
On the boardwalk, there are clearly marked pathways for pedestrians, runners, bicyclists and surreys. Order and decorum are maintained to this day.
Visit: Air Circus (the coolest boardwalk shop anywhere); Kohr Bros.; Johnson's Popcorn; Bob's Lemonade; Tee Time mini-golf; Shriver's; Brown's (doughnuts); George's Homemade Ice Cream; Bashful Banana; Crunchik'n.