Monday, March 15, 2021 / by Teresa DiPeso
With COVID-19 vaccines rolling out and the promise of a not-so-distant future where life is normal again, now seems like the perfect time to bring your place out of the dark ages of decor and into the bright and beautiful light of 2021.
To help with your spring makeover, we got the scoop from the folks at home improvement site Fixr. They surveyed 68 of the nation's top influencers and designers about the year's top color trends, and we're sure these exciting new palettes and design schemes will help inspire your next interior styling session.


1. Earth tones replace cool grays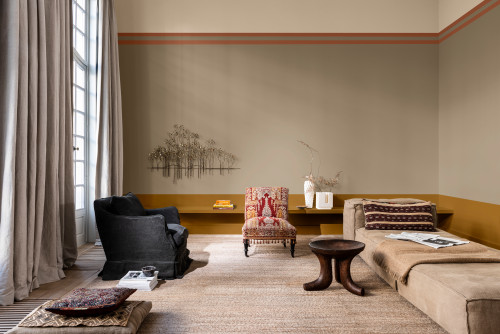 Grays and greige have long been our go-to color choices, but this year we're leaving those cool tones behind for warmer earth ones.
"This trend is directly linked to the amount of time people have been spending at home," says Sarabeth Asaff South, home design expert at Fixr. "Warm, natural finishes have been shown to help reduce stress in a space, and with all the time people are spending at home, warm and earthy colors are helping people feel safe and comforted—much more so than cool grays."
Does that mean grays are out entirely? Not quite.


"Warm, earthy tones are here to stay," says Anna Tatsioni, lead designer at Decorilla Online Interior Design. "But that doesn't mean that there will be a complete switch to beige or ivory hues. We'll simply be replacing cool grays with warmer ones, like gray tones that have hues of green or brown. These feel more versatile, cozy, and calming; plus, they can be easily matched with plants and greenery to bring the outdoors in."





















It's no secret that blue is one of the most serene colors out there, and this year one shade in particular is taking center stage in our bedrooms and meditation corners.


"Once again, it comes down to how we feel, says Asaff South. "Using a blue in a personal space can make you feel calmer. It's also bolder and a lot more fun than earth tones. So in a personal space, you may opt for something like Benjamin Moore's Aegean Teal that you wouldn't necessarily use in your living room."


But bringing in the blue doesn't have to be limited to your bedroom walls—it can also make for great accent pieces and pops of color.


"Blue can complement any style and space without feeling overwhelming or too edgy," says Tatsioni. "We can use it to update our personal space by having one large accent piece like an armchair or sofa. Smaller blue accent pieces in different hues also work well—adding those essential pops of color we all need to create an inspiring space.


3. Flora-inspired accent pieces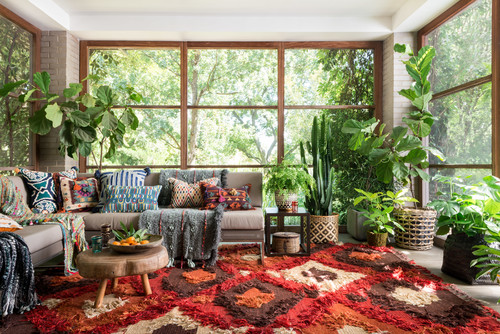 "Having accent colors that are inspired by plants closely ties into the trending natural palette," says Asaff South. "Greens, browns, and soft, earthy hues make you feel cozy.


"Try using your houseplants as your starting point for your color palette," she adds. "This is an easy way to revamp your home's design without needing to think outside the box."
But don't limit yourself to green and brown accents; instead, look to other colors that complement your plants.


"Some colors that fire up the intensity of green include purple and orange shades," says Luciana Fragali of DesignSolutions. "We recommend incorporating all of these colors together by keeping your walls white, but introducing a bolder color in a painted feature wall, beautiful rug, expansive artwork, or armfuls of decorative cushions. Think aqua, teal, terra cotta, warm gray, indigo, navy, and even black. You can also look to your planters and pots to introduce color to your scheme."
4. Textiles that incorporate trending colors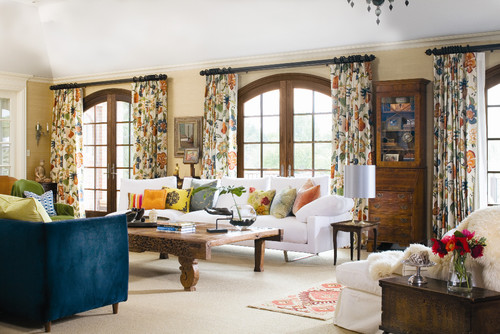 "If you opt for textiles instead of painting your walls, you can explore colors more safely," says Asaff South. "For example, if you purchase some pillow covers in a bold new hue and get tired of them after a few months, you can more easily get new pillow covers than you can paint the wall again."


"Textiles allow you to make a statement without purchasing all-new furniture pieces and breaking the bank," Fragali adds. "This can be achieved by adding trending colors in throws, decorative pillows, drapes and curtains, bedding, and even accent chairs."
5. Textured wallpaper makes a comeback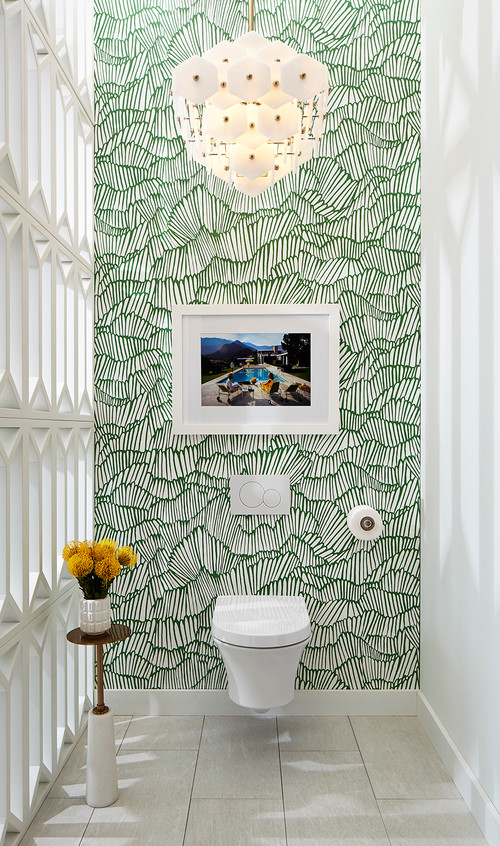 Last but certainly not least, one of our favorite color trends of 2021 has got to be textured wallpaper.

"Gone are the days when wallpaper was a one-dimensional piece of paper on the wall," says Fragali.


The latest trend in wall coverings is to give walls a "seductive 'touch me' texture," Fragali says. Think: printed cork and beaded papers, to 3D geometric designs that pop out of the walls.


"Some people are even hanging rugs on their walls to give them texture and to make a room feel softer and cozier," she adds.


"It's also the perfect way to create a 'wow moment' in a small space, like a powder room or closet," Fragali says. "This is actually one of my favorite ways to use textured wallpaper in the home."