Friday, January 27, 2017 / by Teresa DiPeso
If you haven't taken advantage of the low mortgage rates that have blessed the real estate market in the past few years, brace yourself: You might have missed a sweet deal. Mortgage experts say the days of 3.55% financing are probably gone, as the Fed—and inflation—force rates to climb.
But don't fall into despair. You've still got, like, a minute to refinance your home and take advantage of rates that, historically, are still quite low.
"It's the last call for procrastinators," says Jonathan Smoke, chief economist of realtor.com®.

Even though rates have already begun inching up, there are several reasons it's smart to refinance your home now. And we mean now!

Reason No. 1: Rates are still climbing
"Economists and lenders have been warning of increasing rates for the past five years," says Bruce Ailion, Realtor® and attorney for Re/Max Town and Country in Atlanta. "After being wrong for most of that time, the climate is now right for a period of increasing interest rates."
The proof is in the numbers: In August, interest rates on 30-year mortgages tanked at 3.55%. Today, the rate is slightly above 4% and climbing; Smoke predicts we'll reach 4.5% in 2017, and some experts predict rates could even hit 6% by 2019.
Conventional wisdom says you should refinance when you're paying 1% or more than the current market rate. If that describes you right now, it's time to get refinancing (before rates inch back up to where they were when you originally took out your mortgage—or higher!). By locking in a lower rate, you'll bring down your monthly expenses—in some cases by hundreds of dollars, according to the National Association of Realtors®.

"With rates reaching levels we haven't seen since early 2014, anyone who refinanced since then is not likely to be able to lower their rates," Smoke says. "But for those who just didn't get around to it or possibly weren't in a position to qualify for a refinance, there is still time to lock in historically attractive rates."
Reason No. 2: Rising home prices mean rising home values…
Rising interest rates can spur buyers who were previously sitting on the sideline into action. If these would-be buyers all rush into the market at once, you'll see inventory tighten and prices rise. This increases the value of your home—which is good news if you're considering refinancing. Here's why:
You'll have more options (and get better terms) for a house with a high appraised value and a low mortgage balance—it's a low-risk loan for a bank to recoup its loss in the event you default on the loan.
If you've built up your equity to more than 20% of the value of your home, you may be able to drop the private mortgage insurance you had to purchase with your original loan. PMI typically costs up to 1% of your loan each year; on a $100,000 loan, that puts an additional $100 a month in your pocket.
Finally, with higher home values, you'll have the option for a cash-out refinance—where you'll get a brand-new loan and a check for some of the property's equity.
Reason No. 3: … but those rising prices are slowing down
Optimists among you might say, "If home prices are going up, maybe I should wait a little longer to refinance." And we might agree, if rates weren't inching up, too.
Also, don't expect home prices to continue to rocket up. Prices in 2016 rose 5% from the year before. But experts predict only 2% or 3% increases in 2017.
So don't wait too long in hope of home prices—and values—hitting their peak. You never know when they'll fall.
"Borrowers that wait will look back at this time as a lost opportunity," Ailion says.
Reason No. 4: You're a better borrower
The U.S. Labor Department recently issued a report that showed hiring is strong and wages are rising at the fastest pace since the end of the Great Recession.
That means you're probably earning more money today than last year, and that increased income could make you a better candidate for refinancing. Plus, even though more income doesn't directly affect your credit score, if you use that extra money to pay off debts in a timely manner, your credit score will rise, too.

Reason No. 5: Mortgage credit is more available
All this good economic news is making credit more available for homeowners. December's Mortgage Credit Availability Index rose 0.6% in the month, indicating that credit is loosening and continuing an upward trend.
Smoke says the index shows that credit is 7% more accessible now than a year ago.
"Lenders are willing to take on more risk with rates slightly higher," Smoke says. "If you tried to refinance before and failed, it's now easier and worth looking into."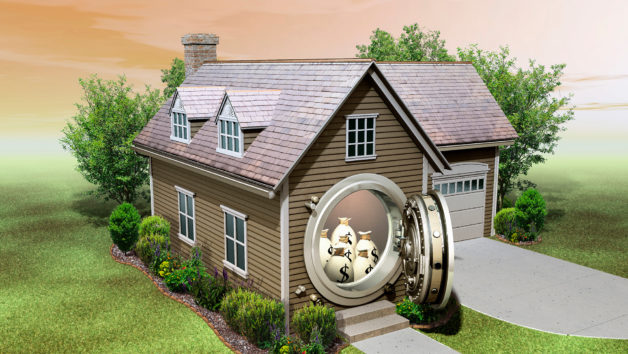 courtesy of realtor.com