3. Use manufactured pavers
"When it comes to designing your backyard patio, concrete pavers are typically known as the safe option," says Coleman James, sales representative at MG Brick and Stone. "But to really elevate your backyard space, look further than man-made paving stones and lay actual natural stone instead."
Natural stone is the best way to incorporate beautiful earth tones into your outdoor space, he says.
"Whether it's in pillars, a path, a fire pit, or walls, you can blend the real, natural colors of stones in ways that stamped pavers can't," says James.
4. Patio set must match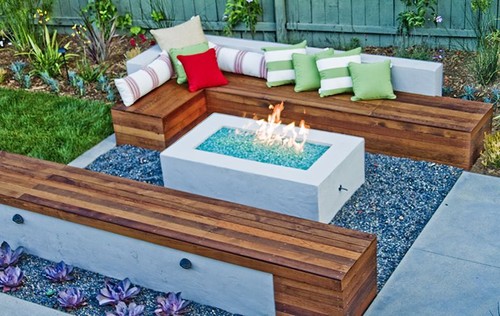 Photo by Eco Minded Solutions
A large, clunky patio set need not be the focal point of your outdoor space.
We are seeing less of the bulky, ornate, wrought-iron patio sets and the mosaic-tile style furniture that was once popular.
Instead, homeowners should opt for seating solutions that have clean lines, neutral colors, natural materials, and modern functionality. Try a sofa bench ($354.99, Wayfair) that has built-in storage, and combine it with a black metal coffee table ($249.99, World Market).
5. Plant profusely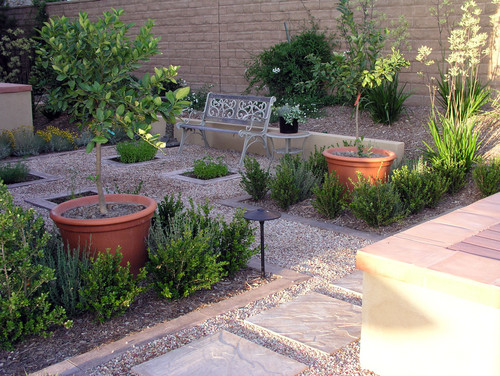 Photo by Studio H Landscape Architecture
Did you get a little carried away with planting and your backyard is now starting to look like a jungle? Be careful not to overplant.
"This creates a headache later when the plants grow into a mess and need to be ripped out. We much prefer an initially sparse garden that has longevity," says Kate Anne Gross of Kate Anne Designs.
And she recommends avoiding using water-thirsty plants or lawns.
"There are so many lovely alternatives these days that are waterwise," Gross says. "Embrace the Mediterranean plants."
6. Small spaces don't need to be designed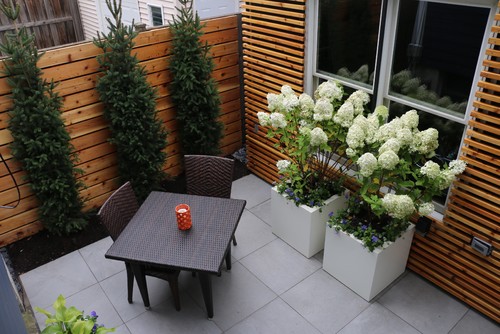 Small backyard? You have lots of big options to explore.
"It's a complete misconception that you can't create an amazing outdoor living area with limited space," says Joe Raboine, director of residential hardscapes with Belgard. "Microspaces are emerging as a dominant form of renovation in cities and neighborhoods where lot sizes are smaller."
Even without a big backyard, a variety of outdoor spaces can be created, he says. For example, you can design a small patio and vertical garden space for relaxing or entertaining family and friends.
"You also can utilize space along the side of your home to create a less traditional outdoor living spot," says Raboine.