Monday, January 30, 2017 / by Teresa DiPeso
A vacant home needs a lot more than furniture to make it market ready.
TV renovation shows have pushed up home buyer's; expectations, giving sellers a template that may be difficult to reproduce if money is tight.
If hiring a professional home staging company isn't within a seller's budget, there are some inexpensive ways to stage a home for sale so that buyers can see the home in its best light and imagine themselves living there. Here are six tips for inexpensive staging:
Better lighting: Clean light fixtures and replace bulbs with high wattage and daylight bulbs, recommends Lisa Kinnear, a certified staging professional and owner of First Sight Staging, which serves the Placer County cities from Roseville to Auburn in California.
"If the buyers can't see your property's best features then they may pass on the home," Kinnear says.
No heavy drapes: Remove heavy drapes that block good views and light. "Chances are buyers won't want your drapes anyway, but they will want to see what they are buying," she says.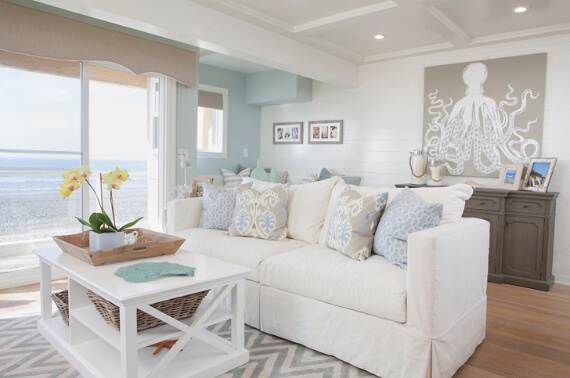 Replace hardware: Replacing mismatched or dated hardware on doors and cabinets is an inexpensive way to update a home and create a cohesive look, Kinnear says. Big box stores sell multi-packs that are much less expensive than buying them individually. And don't forget switch plates and outlet covers.
Clean: A clean house looks like a well-cared-for house that won't have issues for the new owner to take care of. Clean it from top to bottom, and hire a professional house cleaning service if you're not up to the task.
New paint: Paint is a relatively cheap way to make an entire house look new. Old paint or colors that are too bright could give buyers the idea that they'll need to spend a lot of time and money painting the inside of their new home before they move in. Remove that thought by painting with neutral colors.
No clutter: If the home is occupied, the cheapest staging trick is one that may take a lot of work but doesn't cost anything — removing clutter. From family photos on the fireplace mantle to overstuffed closets, remove as much stuff as you can from a home and put everything away neatly. No one is expecting a home with a family living in it to be immaculate and not have a lived-in look, but cleaning off a kitchen counter of appliances and putting other things away can help make a home seem bigger and can make it easier for buyers to see how their belongings will fit in.
I hope you found this real estate information helpful. Please contact our team for all your real estate needs today!