Tuesday, June 20, 2017 / by Teresa DiPeso
If your home is struggling to catch the eye of a buyer, it could be for an entirely valid reason. Maybe you're stuck in a sluggish market or have the poshest place on the block (always a tough sell). But there's another possibility, too—your home could be sitting on the market because of a rookie selling mistake. All of us can make 'em, even those of us who actually have a few home sales under our belts.
The good news? These basic slip-ups can be easily corrected or avoided. To help you out, we spoke to real estate agents to identify some of the most common mistakes people make in trying to sell their home. Sidestep these flubs to avoid sabotaging your own sale.


Rookie mistake No. 1: Overpricing your home
All sellers want to get top dollar for their house. Unfortunately, says Julie McDonough, a real estate agent in Southern California, "many people overestimate the value of their home." For example, she says, "if a neighbor sells their house for $400,000, you might automatically assume that your house is worth at least that much money, but that's not necessarily the case."
"Price is typically the reason why a house doesn't sell," says Irvine, CA, real estate agent Benny Kang. And the last thing you want to do is list too high right from the start, because it could cause your house to sit on the market—which might require you to make a serious price reduction in order to sell it.
"If a home is on the market for more than four weeks, prospective buyers are going to assume that there is something wrong with it," says Kang.
Your best approach: Listen to your agent's listing price recommendation, and try not to get too emotional if your agent's suggestion isn't as high as you'd hoped.


Rookie mistake No. 2: Not budging on price
Even if the price is right, you might need to be flexible—especially if you're in a buyer's market. So, if you receive an offer that's below list price, you should at least consider making a counteroffer. After all, receiving $5,000 or $10,000 less for your house than what you wanted is a small concession in the long term.


Rookie mistake No. 3: Using questionable photographs
Unless you're an artist with the camera, you'll want to hire a professional photographer to take pictures of the house, because nearly half of home buyers start their search online, a recent survey by the National Association of Realtors® found.
"You can write a beautiful description, but people aren't initially focusing on the description," says Philadelphia real estate agent Patrick Conway. "They're looking at the pictures."
A photographer will cost between $150 and $400—a good investment.


Rookie mistake No. 4: Leaving religious or political belongings in plain sight
"You never know what type of buyer is going to look at your house," says McDonough, so put away all personal belongings—specifically, religious or political items, which can be awfully polarizing. "You don't want anythingthat's going to distract buyers."


Rookie mistake No. 5: Lurking around at your own open house
This is a huge mistake for several reasons. "If the buyer knows that the seller is there, they might feel uncomfortable asking the listing agent honest questions about the home," says Kang. Buyers might also feel like they're intruding if you're present, which is kind of odd.
"People like to open closet doors and look closely at the home without someone hovering over their shoulder," says Conway.


Rookie mistake No. 6: Making it difficult for agents to show your home
When selling your house, "be prepared for little privacy," says Kang. Translation: You'll need to be flexible when buyers ask to see your home on short notice. To make it easy for buyer's agents to show the property while you're away (see No. 6), let your agent install a lockbox with keys to the house, advises Conway.


Rookie mistake No. 7: Leaving pets at home during showings
Some people are simply scared of pets, (yes, even your cute little pug), or they might have allergies that will make them want to steer clear. So don't just crate your dog or cat during showings; instead, take them with you or drop them off with a neighbor while buyers are viewing the house. And because pets, like humans, tend to accumulate lots of stuff—leashes, collars, toys, water bowls, and the like—make sure you stow their paraphernalia in a cupboard or closet. And do a quick vacuum of pet hair before you go!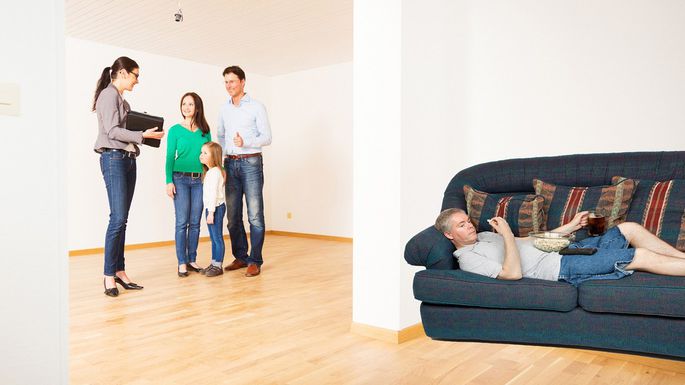 courtesy of realtor.com