Tuesday, May 15, 2018 / by Teresa DiPeso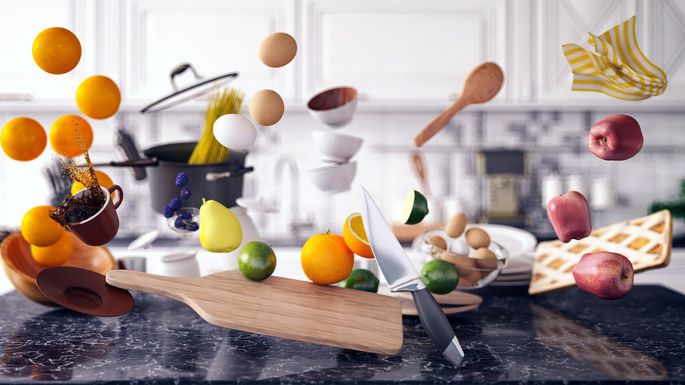 You work hard to shop for, prepare, and serve great meals to your family—which means cooking is stressful enough without the added layer of doing it in a room that feels a bit ominous.
We're not saying your kitchen has a secret gremlin that's messing with your manicotti, but why take any chances? For the happiest meals possible, consider incorporating feng shui—the Chinese philosophy of designing your environment to promote positive energy and luck—where you eat.
"Kitchen feng shui is second only to the bedroom in importance, because you nourish and nurture yourself in this space," points out Trisha Keel, director of education at the International Feng Shui Guild.
Designing a healthy floor plan, choosing the right paint colors, and cleaning up that dang clutter can improve your juju and make this room a place of peace.
Ready to right the wrongs in your kitchen? Before you slap another sandwich on a plate, here are seven feng shui mistakes you should avoid.


1. Glass kitchen table




The problems with this kind of table are twofold, reports Kim Julen, a certified feng shui practitioner. The transparency that comes with glass tables is verboten if you're aiming to promote good vibes—and sharp square or rectangular edges are also a no-no.
"Seeing your feet while you eat can cause digestive issues, because the food appears to be going right through you at a glass table," Julen explains.
A rounded or oval table means no one is sitting on an edge. "This type of table promotes balance and better communication than a square one," she says.
2. Microwave over the stove




Nearly every stove seems to have a microwave floating above it, in part because it saves valuable counter space, and keeps the appliance out of kids' reach.
But Julen says this arrangement can rob your kitchen of wealth—and who wants that?
"The stove represents wealth, so allow open space above it, rather than cramp your prosperity with a microwave," she says.


3. Broken burners




The reason your stove is a symbol of wealth has to do with the food that's cooked on it. So if you have a burner that's on the fritz, get it fixed—fast, Keel urges.
"The stove defines your wealth because the meals build your body and support life, so a broken flame or dirty oven can be reflected in your bank account," she says.
And if possible, don't let the stove reside under a window. Much the way you wouldn't show your money by leaving an open wallet on a table, outsiders shouldn't be allowed to peek at your stove and view your tempting beef bourguignon.
"You might inspire people to ask to be fed at your table, which can quickly get out of hand," says Keel. Her kitchen is set up this way, and people actually do walk by her home and ask her, "What's for supper?"
"It happens all the time—and while they may be kidding, they still looked, saw, and asked," she says.


4. Open shelving




This kitchen look is all the rage, but it's a problem if you're hoping for better feng shui.
The issue here is the same as with a square table—exposed sharp edges that otherwise would be covered by cabinet doors.
"It's trendy to place shelves on either side of the stove now, but this creates 'poison arrows' aimed at the person who's cooking," Julen explains.
In fact, anything sharp such as the corner of a wall can point toward people in the room and cut off their energy.


5. Sink, stove, and fridge triangle




Your appliance arrangement is key to good feng shui. But avoiding this particular triangle of terror is tough, because most kitchens have the stove, fridge, and sink placed opposite or adjacent to one another.
"If your appliances are this way, then you're paying to heat up what you're also paying to cool down or wash off, which creates a pattern of conflict that can lead to confrontations," Keel notes.
Fortunately, there's a fix, Keel says: Hang a green dishcloth between the "water" (sink or fridge) and the "fire" (stove or microwave).
"Water and fire are explosively opposite, but water feeds wood—like plants and trees—and wood feeds fire," Keel explains. "So in this case, the green towel acts as the wood or plant and serves to make a safe transition between the two."
"You can also position a kitchen island between the sink and stove, or light the area with crystals," adds Katie Weber, creator of the e-zine Red Lotus Letter and a certified expert in feng shui. "This will keep the energy positive and prevent arguments and stress."


6. Blue or red paint




When considering color in the kitchen, opt for "hungry" shades such as orange, apricot, pear, lime, and watermelon.
But steer clear of blue, since there are no naturally occurring foods in this hue. ("Blueberries are actually deep purple," Keel points out.) And even though the color red is found in nature, try to skip all things crimson, Weber adds.
"Kitchens are a place of fire, and fire must be controlled—and red shades create excess fire energy."
You should also avoid any shades of green or brown that look like rotten food. If you're not into bright, vivid colors, you can choose any of the earth tones such as sand, charcoal, ash, and terra cotta.


7. Clutter




Clutter catches up with all of us, from that overflowing Tupperware drawer to those old spices from the '80s in your cabinet. Too much stuff lying around can inhibit your energy—so removing the mess can let it flow.
Corral all those cleaners under the sink in a pull-out tub, and keep a small stool on hand to tidy upper cabinets, Keel suggests.
Once your counters are cleared off, put out a bowl of fruit or potted herbs. These two are huge feng shui tricks, Keel says, because they encourage the whole family to be nourished and eat healthfully.


















courtesy of realtor.com