Sunday, July 29, 2018 / by Teresa DiPeso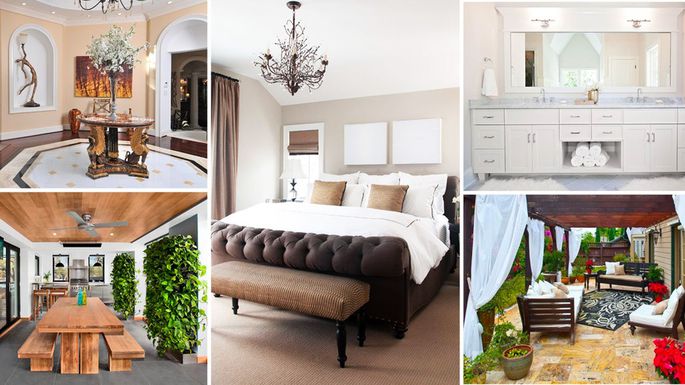 You know the feeling you get when you check into a high-end hotel—the kind with sumptuous bedding, chic décor, and breathtaking views? The feeling of never wanting to leave?
That vibe comes by deliberate design: Everything in that hotel was artfully staged to create a welcoming, luxurious environment to make guests feel pampered.
Now, imagine a potential buyer walking into your home and feeling those same feels. If you can re-create a high-end hotel experience in your house, buyers will swoon.
After all, you're not just selling a home—you're selling a lifestyle! Here's how to captivate buyers by capturing the vibe of the best hotels.
1. Glam up your entranceway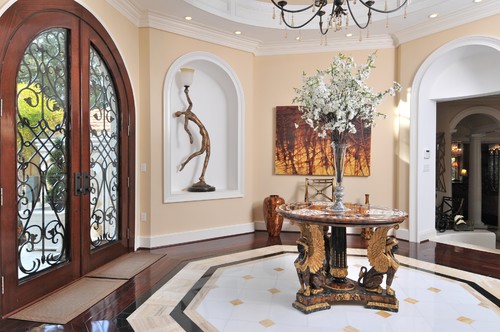 There are no second chances when it comes to first impressions. That's why hotels spend so much money on lobby design, says Alex Venditti, real estate agent and executive vice president of the Alex Venditti Group with Coldwell Banker in Washington, DC.
Venditti, who's appeared on several HGTV design shows, including "House Hunters" and "Designed to Sell," says hotels definitely influence residential design—starting with the lobby.
"At most fine hotels, you walk into an area with a beautiful, round, elegant table with a huge spray of flowers on it, which automatically provides a very welcoming, comforting feeling," he explains.
Make sure buyers get that same emotion when they step into your house: Re-create that chic lobby atmosphere in your entryway by adding a tablewith an overflowing vase of flowers, lamps, and some seating.


2. Arrange your belongings to tell a story
You probably know you should depersonalize and declutter your space to appeal to as many buyers as possible. But you don't have to wipe the slate clean; you can use your treasured objects to woo house hunters, says Staci Patton, principal and hospitality leader at DLR Group in Minneapolis, which provides interior design services to hotels.
"One of the things we try to do in hotels is make it feel like the home you always wanted," she explains. "Think about your home as an experience.
"Create interesting focal points by having some historic books out on a table," she suggests. "If you have a beach home, maybe the story you're telling is about exuberance, happiness, and a coastal vibe, so you can build upon that."
Just be careful to distinguish between artful vignettes and annoying surface clutter, Venditti cautions.
"Our rule of thumb with design is that we only have two to three objectson every surface—five, maximum, if it's a very large surface," he says. "That's the ideal number that doesn't distract from the eye, and it's very reminiscent of a fine hotel room."


3. Choose your hues carefully
Bold jewel tones are hot right now, but before you slather a deep teal or regal purple on your walls, know this: Most upscale hotels prefer neutral yet luxurious palettes—harmonious shades such as warm grays, taupes, rich browns, and even blacks, Patton says.
"Hotels want to ensure that their investment isn't going to be thrown out the door in the next two years," she says.
And potential buyers want the same—rather than a house with walls they know they'll have to immediately paint over.
Patton's company uses lots of glass and black metals that create a European chic feeling; Venditti suggests sticking to two or three colors maximum throughout your home.


4. Dazzle potential buyers with plush bedding




For an elegant look, Venditti suggests replacing the duvet covers and pillow shams in the bedrooms with hotel stripe bedding—all-white linens embroidered with one stripe of color—and a couple of throw pillows that tie in.
Don't want to sell a car to pay for a crisp set of Frette sheets? Patton has a few frugal tricks that work equally well.
"In upscale hotels, the duvet is almost doubled back over at the end of the bed, which looks so welcoming," she says. "You could do that by putting two or three inexpensive duvets into one duvet cover. Immediately, you'll get this really thick, fluffy duvet."

5. Transform your bathroom into an oasis




If you plan to redo one of your tired bathrooms before listing your property, stick to classic materials.
"You'll never go wrong with Carrara marble for your walls and shower, with a smaller version of it for the floors," Venditti suggests. "That's something people are used to seeing everywhere—from old grand homes to your chicest Manhattan hotels."
If you're on a budget, choose similar-looking porcelain or ceramic tiles, Venditti says. Just make sure to keep a soothing, simple palette of whites.
"When you do all-white towels, hand cloths, and washcloths, you'll create a very spalike feeling," he says.


6. Create the illusion of space with lighting and proportion
If you're challenged with a dark space or low ceiling, mirrors are the easiest and least expensive way to create an illusion of depth and light.
"I love when people use really large mirrors—even floor-to-ceiling ones, which can be very dramatic," Patton says.
Incorporating glass side tables and coffee tables also opens up the space, Venditti adds.
"If you're using solid wood pieces with huge, dark legs, you're cutting up the feeling of the entire space," he explains. "Glass helps buyers see the vision of the room."
And when it comes to art, Patton says, bigger is better; undersize works can actually make a room feel smaller.
Finally, a gorgeous hotel-like home needs the right lighting to bring it to life, Patton adds. Consider recessed lights in the ceiling, or wall sconces.
"When you walk into a room that's evenly lit, it makes the space feel much more inviting and comfortable, and it increases the scale of the room," she says.


7. Continue the vacation vibe outside




Transform your deck with comfy seating and a separate space for dining so that buyers are reminded of alfresco dinners on hotel patios. Set up white candles in large hurricane lamps and casual vases of fresh flowers for an added touch of luxury.
"If you have the ability to do flowing, sheer white drapery on the doorways that are going out to that area, that's also very reminiscent of vacations at hotels," Venditti says. "And the lighter you can keep the colors for outdoor furniture, the better. If you've got a dark weave, then top that with white cushions."


8. Use biophilic design




Finally, try incorporating the latest hotel trend: biophilic design, which takes its inspiration from the outdoors.
"If you're on the coast ... it's much more authentic to look at what's around you—the sea, grasses, palms—and pull those in as references for patterns on pillows," Patton says. "Or use other textural materials like a really rich grass-cloth wall covering, or a fantastic large-scale piece of art that captivates a coastal scene."
Even if you're not on the beach, look to the outside to see what you can bring inside.
"Some of the most successful homes are the ones that showcase a lifestyle," Patton says.












courtesy of realtor.com