Sunday, May 2, 2021 / by Teresa DiPeso
Give your friends a holler and get ready for some much-needed fun in the sun, 'cause country music's biggest stars are coming to the beautiful beach of the City of Wildwood, NJ!
The inaugural Barefoot Country Music Fest (BCMF) will be held this summer from Friday, August 20 through Sunday, August 22 after a kick-off concert on Thursday, August 19.
Brought to you by Southern Entertainment, the producers of the East Coast's largest outdoor country music fest and award-winning Carolina Country Music Fest, BCMF is poised to be the Northeast's largest outdoor country music fest, and the only one on the beach. The festival will occupy a 33+ acre playground located on the FREE and spacious Wildwood, NJ beach at Lincoln Avenue between the iconic Morey's Mariner's and Adventure amusement piers, making it easily accessible from the Boardwalk.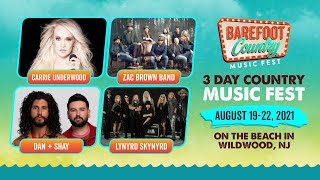 A Thursday Night Kick-Off concert was added to thank first responders and the locals for welcoming BCMF to the community and start off the country music-filled weekend. Thursday night's lineup is scheduled to be announced on Friday, April 30 and fans who purchase their BCMF tickets by Friday, May 14 or are already ticket holders will automatically receive free tickets to the kick-off concert.
The three-day event will host 30+ of the industry's biggest stars and up-and-comers on multiple stages. The current lineup for the fest includes Carrie Underwood, Zac Brown Band, Dan + Shay, Lynyrd Skynyrd, Lee Brice, Billy Currington, Jimmie Allen, Jon Pardi, Chris Lane, Lindsay Ell, Ingrid Andress and Carolyn Miller, with more artists scheduled to be announced on Friday, May 7.
"Wildwood is ready!" said enthused Mayor Pete Byron. "The Barefoot Country Music Fest has been well over a year in the making, and we will rock with these amazing country artists on our wide sandy beaches. The entire Five Mile Island is ready to welcome residents and visitors alike this August 19-22. We are ever grateful to the hard work and determination of the entire BCMF team and promise to match their dedication with ample municipal support to ensure a top-notch, safe event that is sure to be the big hit of Summer 2021."
"We're looking forward to working with Southern Entertainment to bring world-class talent to the New Jersey coast this August," said Jeffrey Vasser, Executive Director, New Jersey Division of Travel & Tourism. "BCMF is just the kind of event we need to boost tourism and help local businesses in the Wildwoods and Cape May County rebound from the pandemic."
"From the first moment we visited Wildwood, we knew we were home," said Rob Pedlow of Barefoot Country Music Fest. "We're excited from the start of what we know will be a lifetime of great summers here; we're not looking to be tourists, we want to be a part of this community. With this being our inaugural event, we want to make sure we do it right, and we're continuing to work closely with all of our partners including the New Jersey State Department of Health, the New Jersey Governor's Office, the Cape May County Department of Health and the City of Wildwood, to ensure we put on a safe and amazing show."
"As restrictions continue to be lifted, we expect this event to be one of the largest economic impact contributors to our tourism economy," said John Siciliano, Executive Director/CFO for the Greater Wildwoods Tourism Improvements & Development Authority (GWTIDA). "We are looking forward to working with Southern Entertainment to promote this great event for the Wildwoods."
It's been a tough year but music always brings us back together," said Bob Durkin, President of Barefoot Country Music Fest. "The artists and Nashville are eager to get back to their fans and live music. Barefoot Country Music Fest, especially in its setting on the beautiful beach in Wildwood, is one of the most highly anticipated events of the year for them."
BCMF will follow all recommended CDC and state guidelines regarding COVID-19 at the time of the event.