Friday, July 28, 2017 / by Teresa DiPeso
We'd found it: our dream home. And then we watched it slip through our fingers.
It all started back in the fall of 2016, when my husband and I decided to buy an apartment in New York. After spending countless weekends touring dozens of properties that ran the spectrum from "Meh" to "I need to take a shower after this," there it was—the perfect co-op apartment. The pros were numerous: two bedrooms, two bathrooms, an upstairs anddownstairs, a terrace, and even a fireplace.
Strangest of all? In a truly bizarre coincidence, my parents had lived in the same apartment in the 1970s, something we figured out when I described the apartment to my mom, who even produced a picture of my brother in his playpen taken in that living room long ago. I took it as a clear sign this place was meant for us.
Boosting our chances of clinching the deal, the house had been languishing on the market for three months. So we put in our offer, and over the next few weeks, went through the usual back-and-forth. Near the end, we were so confident it would all work out, we jotted down the measurements of rooms and started mentally arranging our furniture.
That is, until our Realtor® informed us one afternoon that another buyer had swooped in and outbid us. Worse still, the sellers had accepted our rival's bid without even giving us a last Hail Mary chance to make them an offer they couldn't refuse.
Upon hearing the news, I burst into tears. My husband tried to be comforting, but deep down, I think he blamed me for botching the job. At the time, I had no idea what I'd done wrong, but since then, I've done some digging and learned that I had, indeed, made a few mistakes that undermined my chances of sealing the deal. Here are some of the hard lessons I learned, which I pass on in the hope that this may help future home buyers avoid the same fate.


Lesson No. 1: Don't lowball too much
The first thing we did wrong was put in an offer way below asking price—we're talking more than 20% below. At the time, it seemed fair to us, given that the home needed major renovations. But according to Jim Espositoof Intercoastal Realty in Fort Lauderdale, FL, "Buyers often lose their dream home by bidding too low."
A really lowball offer can offend sellers, and turn them against you even if you're willing to negotiate upwards from there. Not that you shouldn't wheel and deal a little, but if you're bidding on your dream home, you may not want to mess around too much. According to Esposito, "It's often the first buyer that engages the seller in a sincere discussion who will get the house."


Lesson No. 2: Offer more than just a great price
Even if we weren't able to outbid the other buyer on price, real estate agents say there were other things we could have done to outshine the competition.
"Pricing isn't always the reason why sellers choose not to accept a particular contract," says Desare Kohn-Laski, founder of Skye Louis Realty in Coconut Creek, FL. Inspection periods, financing contingencies, appraisal contingencies, and closing dates are other factors a seller will consider when they finally choose one offer over another. So if you really love a property, try to be flexible on those fronts.
Last but not least, draft an eloquent offer letter laying out the reasons why you love the home, as well as a bio, so that the seller can relate to you instead of simply seeing your offer as a number. For instance, I should have leveraged the fact that my parents had lived in that home. I could even have sent them that pic of my baby brother.


Lesson No. 3: Ask if there are other bids
Sadly, sellers and their agents are under no obligation to keep all buyers aware of other bids. "There is no way to find out with 100% certainty if the seller is entertaining other offers," Collin Bond, broker of New York's Triplemint. But think of it this way: "It is in the seller's best interest to disclose that information so the buyers bid accordingly."
In other words, listing agents should generally want to spread the word that a house is in high demand, to spark a bidding war. So, push your agent to feel out the seller's listing agent and find out as much as possible about the situation.


Lesson No. 4: Make your 'best and final' offer
One concept every home buyer should be aware of in a competitive market is the "best and final" offer. How it works: Typically the seller's agent will inform all people who've made offers that there are multiple bids, and that it's time for all buyers to offer their "best and final," or the highest price they can pay.
Sadly, I didn't get this opportunity. But if you do—and you're going to kick yourself if you're outbid by a few thousand bucks—then offer the maximum you can comfortably afford. Giving it your all will mean you can walk away without regret. If the place ultimately goes for a higher price than you can afford, it wasn't the perfect house after all. It was simply too expensive.


Lesson No. 5: Put in a backup offer
OK, someone put in an offer. Take a deep breath, then think offensively. "If you miss out on your dream home, put in a backup offer. You never know, some contracts fall apart," says Kohn-Laski. In many states, it takes five to seven business days from when an offer is accepted to the date a contract is signed, so you'll want to act fast, to be first in line in case the deal falls through.


Lesson No. 6: Trust that another dream home will come along
After an appropriate mourning period, I kept searching the listings. Three months later, I saw a great apartment, with one tiny caveat—the view looked directly onto the dream home I'd lost! I tried to stare into the apartment windows to see what the buyers had done to a home I had fantasized would be mine. While I couldn't make out anything inside the space, I could feel something inside me ease up. I was looking at someone else's dream home. Mine is still out there.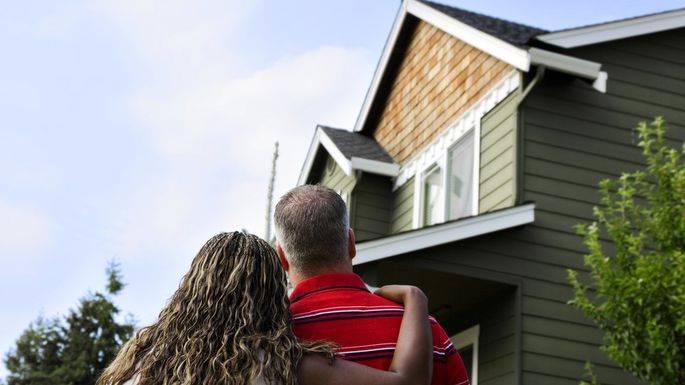 courtesy of realtor.com