Monday, August 29, 2022 / by Teresa DiPeso
Does your bathroom need a fresh breath of air? You're not alone. Of all the rooms in the house, bathrooms are often the ones that homeowners are most eager to renovate.
In fact, most people are willing to shell out big bucks to get a better loo. Homeowners spend anywhere from $6,611 to $16,632 on bathroom remodels these days, according to HomeAdvisor. This includes a complete tear-out and replacement of all walls, fixtures, and appliances.
But if you're looking to spend only about a grand—or you're not into the idea of turning your bathroom into a construction zone—you're in luck. Below, we detail exactly how to quickly and effectively update your bathroom for less than $1,000—no special skills or hired labor required!
1. Install a floating vanity
If you want to make your bathroom an oasis of serenity, go minimal with a floating vanity. It will free up floor space and give your powder room a streamlined, modern look.
"A floating vanity will make your bathroom instantly look bigger and brighter," says Steven Hill, an interior designer and founder of DIY Gazette. "This upgrade will add a touch of luxury to your bathroom, and it's a great way to update the space without spending a lot of money. I would suggest getting a floating vanity with built-in storage so you can keep your bathroom looking clutter-free."
Single and double floating vanities in a variety of finishes and styles, with storage, start around $260 at The Home Depot.
2. Get cozy with a heated towel rack
Cooler weather will be here in a few short weeks, and nothing says cozy like a warm bath towel. Not only do warm towels give you that spa feeling at home but heated towel racks will also dry your towels faster and prevent mildew.
"This might seem like a small upgrade, but swapping out your towel rack for a heated one is a game changer," says Hill. "There's nothing better than stepping out of the shower and wrapping yourself in a warm towel."
When choosing a heated towel rack, make sure to buy one that has a timer so you can control how long it stays on.
Bed Beth & Beyond has a range of towel racks starting at $43.
3. Switch up the lighting
Bad lighting is never good, but in a bathroom where you spend a lot of time looking in the mirror, it's especially painful.
But good lighting options abound, depending on your bathroom's setup, your needs, and the overall aesthetics of the space.
"Great lighting can transform a bathroom," says Karen Gray-Plaisted, a home stager at Design Solutions KGP in Warwick, NY. "Instead of the typical overhead light, maybe add two sconces on either side of a mirror, which will give you better lighting and change the feeling of the room. Consider adding under-cabinet lighting, which can create that spalike feeling also."
Or, add a dimmer, which will allow you to adjust the lighting from wake-up to unwind, with a flick of your finger.
"Adding a dimmer switch to your bathroom is a great way to create a relaxing and ambient atmosphere," says Hill. "When choosing a dimmer switch, just make sure to get one that is compatible with your type of bulbs. LED bulbs work best with dimmer switches. I would also suggest getting a dimmer switch with a built-in timer so you don't have to worry about forgetting to turn the lights off."
Sconces start at around $40, under-cabinet lighting starts at $15, and dimmer switches start at around $22 at Lowe's.
4. Swap out the hardware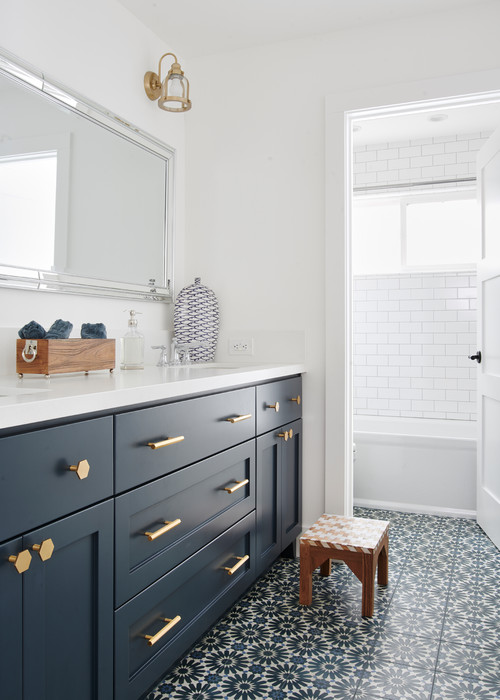 If your bathroom is stuck in a previous decade or a style you dislike, switching up hardware will instantly change the look.
Replace all of the knobs, drawer pulls, towel bars, toilet paper holders, showerhead, and door handles. Opt for a trendy brushed brass or sleek chrome finish.
Hardware sets start at $40 at Lowe's.
5. Go green
If you're eager to save money and create a more eco-friendly bathroom, start by going with the flow.
Low-flow toilets can save up to 9,000 gallons a year, and low-flow faucets can slash water consumption by almost a third.
"Upgrading your toilet, faucets, and showerheads to more eco-friendly models can save so much water—and the designs are great these days," says Linda Haase, a Utah-based interior designer.
Low-flow toilets start at around $250, low-flow faucets start at around $15, and low-flow showerheads start at around $30.
6. Go bold with color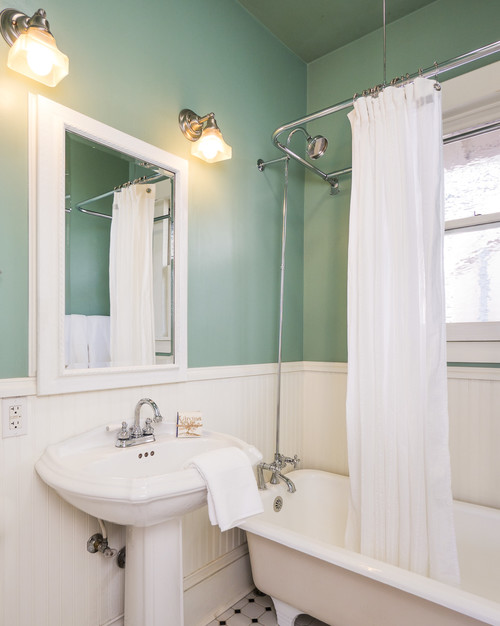 You can also refresh your bathroom's vibe with a new paint color or wallpaper on the walls.
"Currently, soft greens, whites, and grays are trending in paint colors and can create a spalike feeling in a bathroom," says Gray-Plaisted. "Choose a color that coordinates with the existing tile or shower curtain."
If your bathroom is really small, Gray-Plaisted urges you to consider adding patterned wallpaper.
"It can make a huge impact in a small room and, counterintuitively, make it look larger," she adds.
---