Tuesday, May 25, 2021 / by Teresa DiPeso
What Industry Leaders Are Saying
As we enter the middle of 2021, many are wondering if we'll see big changes in the housing market during the second half of this year. Here's a look at what some experts have to say about key factors that will drive the industry and the economy forward in the months to come.
National Association of Realtors (NAR)
"Sellers who have been hesitant to list homes as part of their personal health safety precautions may be more encouraged to list and show their homes with a population mostly vaccinated by the mid-year."


Danielle Hale, Chief Economist at realtor.com
"Surveys showed that seller confidence continued to rise in April. Extra confidence plus our recent survey finding that more homeowners than normal are planning to list their homes for sale in the next 12 months suggest that while we may not see an end to the sellers' market, we might see the intensity of the competition diminish as buyers have more options to choose from."


Freddie Mac
"We forecast that mortgage rates will continue to rise through the end of next year. We estimate the 30-year fixed mortgage rate will average 3.4% in the fourth quarter of 2021, rising to 3.8% in the fourth quarter of 2022."


New Sellers Are Ready To Enter the Housing Market
One of the biggest questions in real estate today is, "When will sellers return to the housing market?" An ongoing shortage of home supply has created a hyper-competitive environment for hopeful buyers, leading to the ultimate sellers' market. However, as the economy continues to improve and more people get vaccinated, more sellers may finally be in sight.


The Home Purchase Sentiment Index (HPSI) by Fannie Mae recently noted the percentage of consumer respondents who say it's a good time to sell a home increased from 61% to 67%. Doug Duncan, Senior Vice President and Chief Economist at Fannie Mae, indicates:

"Consumer positivity regarding home-selling conditions nearly matched its all-time high." (See graph below):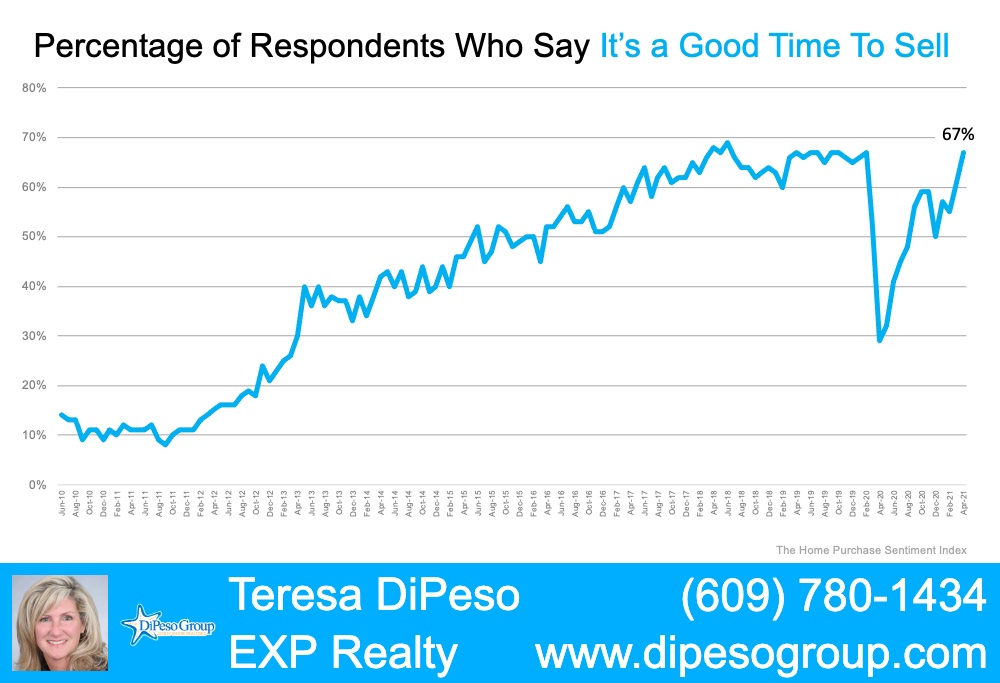 Fannie Mae isn't the only expert group noticing a rise in the percentage of people thinking about selling. George Ratiu, Senior Economist at realtor.com, shares:

"The results of a realtor.com survey . . . showed that one-in-ten homeowners plans to sell this year, with 63 percent of those, looking to list in the next 6 months. Just as encouragingly, close to two-thirds of sellers plan to sell their homes at prices under $350,000, which would offer a tremendous boost to affordable housing for first-time buyers."
Home Builder Confidence Is High, But Expect Prices To Continue Increasing
The numbers: Despite a multitude of factors making construction more challenging, home builders remained confident in the state of the housing market, according to an industry trade group.


The National Association of Home Builders' monthly confidence index held steady at a reading of 83 in May, the trade group said.


Index readings over 50 are a sign of improving confidence. A year ago, the onset of the pandemic caused the index to drop below 50 in April and May, but confidence quickly rebounded as many Americans opted to resume their search for a new home last summer.


"Low interest rates are supporting housing affordability in a market where the cost of most materials is rising," said Robert Dietz, chief economist for the National Association of Home Builders (NAHB), in the report.


What happened: Of the three underlying components to the broader monthly report, the gauge of builders' expectations for home sales in the next six months improved. The index measuring builders' attitudes toward current sales conditions remained the same, while the component that measures traffic of prospective buyers decreased slightly. On a regional basis, builder confidence improved in the South and held steady in the West, but decreased in the Northeast and Midwest to the lowest levels since August.


The big picture: The lack of existing homes for sale and the continuation of the low-rate environment are supporting interest in the market for new homes. But buyers and builders alike are facing price pressure that could complicate the feasibility of sales.
The aggregate material costs for home construction are up 12% compared to a year ago, and builders have indicated that they expect prices to move even higher. The short supply of lumber and steel used to construct homes is a major driver of these higher material costs, in particular.


Builders also face challenges in securing lots and labor in many markets, the NAHB warned. "Some builders are slowing sales to manage their own supply-chains, which means growing affordability challenges for a market in critical need of more inventory," Dietz said, adding that buyers should expect rising prices.


What they're saying: "The trend in homebuilding should remain upward due to rising employment, still-low interest rates, and a record-low supply of available homes in the resale market," said Sal Guatieri, senior economist at BMO Capital Markets, in a research note.


Bottom Line
Now is a great time to buy and sell at the Shore. Rates are still low, but expected to continue rising from lows around 3% recently to close to 4% in 2022. Let's connect today. I'm confident my 25 years experience can help you achieve you real estate goals at the Shore, selling or buying. Call/text 609-780-1434!