Sunday, October 1, 2017 / by Teresa DiPeso
You know that moment when you first set foot in a friend's or a neighbor's home—and it's so gorgeous, the mere thought of returning to your cramped, messy, oh-so-humble abode makes you hate your life?
Welcome to house envy. We've all been there. In case it makes you feel any better, no one—not even the proud owner of that mansion next door you're coveting—is immune.
"People with gorgeous homes often have a heightened sense of aesthetics, desire, and achievement," says Carla Marie Manly, Ph.D., a clinical psychologist in Santa Rosa, CA. "When that's coupled with a desire to have the best, even a home that may appear perfect to others may never feel quite good enough."

Granted, house envy is an old concept that's coined well-worn clichés like "keeping up with the Joneses." Only today, even if you've got the nicest house in the neighborhood, it's all too easy to gawk at real estate listings online and feel dissatisfaction rear its head all over again.
So let's just come out and say it: House envy is normal. But if you find it's become an unhealthy obsession, here are some things you can do to keep it from cramping how you feel about your own home—and even channel it into productive endeavors.


Know the difference between liking and wanting
"When we find something to be beautiful or extraordinary, we're often tempted to 'have it,'" says Manly. "This response is natural, but important to notice." Go ahead and ooh and aah over stunningly beautiful home listings, but unless you're truly in the market for a new home, you don't need to also pull up a mortgage calculator and then beat yourself up about how those payments are out of your financial reach. Just appreciate what you see, much as you would admire fine art in a museum. Just because you like "Girl with a Pearl Earring" doesn't mean you should bemoan the fact that you can't hang it in your living room.


File it away
Spot a shag rug you love? Or are you salivating over some quartz countertops in someone's new kitchen? Rather than try to squelch your envy, embrace it. Get the name of the designer and model number, or, if you spot the image online, pin it to your own personal Pinterest board for design inspiration to delve into later. After all, there's no reason you can't cop the same look, albeit on a smaller scale. Plus, "In learning to appreciate and then file away your objects of desire, you can cultivate a sense of patience and satisfaction," says Manly. "A desire doesn't always need instant action."


Think of your home's high points
Instead of wishing you had a personal movie theater in your basement like your neighbor, list five things you truly appreciate about your own home. Pick what you personally value over showmanship. "Maybe the view out your window, or a picture you have in your bedroom is meaningful to you," says Elizabeth Lombardo, Ph.D., author of "Better Than Perfect: 7 Strategies to Crush Your Inner Critic and Create a Life You Love." Magnifying the positive will help minimize those nagging wants for something else.


Realize that all houses have something special
Remember, just because one house is amazing doesn't mean the rest (including yours) are dumps. "It's not like there's one great house and all the rest are bad," Lombardo points out. "There are limitless amazing houses [in the world]."
Every home has high points, after all, whether that's an adorable attic play space or a clever storage area under the stairs. Giving yourself this reality check "can stop the feeling that what you have is not good enough," says Lombardo.


Use envy as inspiration for a few upgrades
"The upside to envy is that it can be used to propel us to achieve and create," says Manly. "This energy can be used to thoughtfully create more aesthetically appealing spaces in your own home." Yes, you covet your neighbor's new kitchen with a nine-burner commercial range and gold marble countertops. (You're only human.) But what can you do to improve your own kitchen? Plenty, and it doesn't need to cost a bundle; a new backsplash, drawer pulls, or a fantastic new faucet can transform the space for relatively little cash.


Stop seeing other people's homes as a reflection of your own home—or you
No matter how nice your neighbor's house looks, the danger lies in seeing it as a way to size up your own home—and your ego.
"Many people subconsciously take house envy one step further: If their neighbor has a great house, they think their house isn't good enough, andthat they're not good enough, either," Lombardo says.
But when you really think about it, that's quite a leap of logic.
"[Where your neighbor lives] is not a poor reflection on you and your home; in fact, it has nothing to do with you," Lombardo says. Once you take yourself out of the equation, you may find it easier to get house envy out of your head.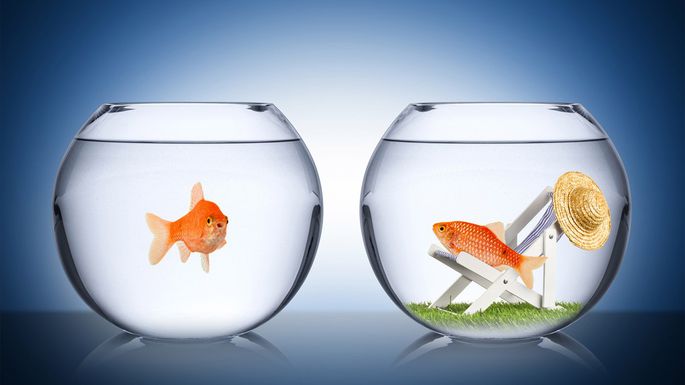 courtesy of realtor.com