Wednesday, September 9, 2020 / by Teresa Dipeso
Sea Isle City's first Boardwalk was built in 1907.
Today, Sea Isle City sports a sturdy, asphalt-covered promenade that extends from 29th to 57th Street. But it wasn't always that way. The town has gone through at least four distinct "boardwalks" over the years.


There's been a bit of a problem maintaining the long-term integrity of this indispensable asset. Mother Nature keeps trying to interfere.


The First Real Boardwalk:
The year 1907 marked two milestones for Sea Isle. It became incorporated as a full-fledged official "City" and the first wooden boards were installed from 20th Street to 63rd Street. After 26 years of existence, Sea Isle City finally had a boardwalk.
It was mostly modeled after the Atlantic City version with its herringbone pattern of boards. It was only about ten feet wide at each end, but nearly twice that in the middle because that's where the action was.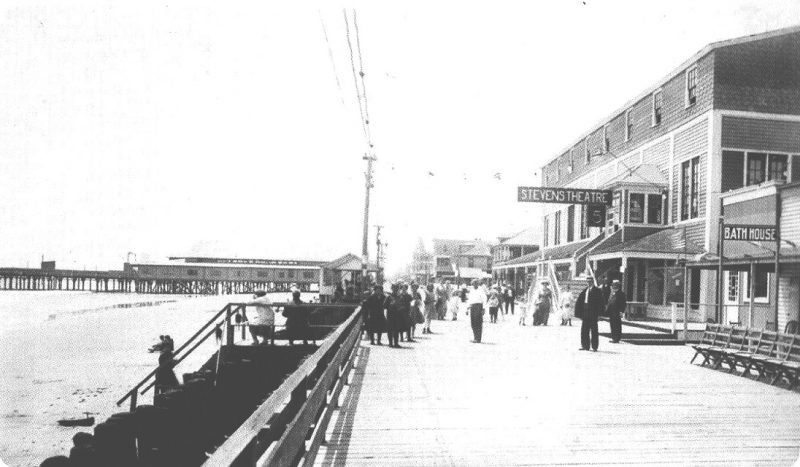 An early view of the Boardwalk, looking south from 40th Street. Excursion House is at right and Ocean Pier at left.


There's some suggestion that this initial walk extended as far south as 85th Street in Townsend's Inlet. Several pilings were later found along the way, but it could never be proven.


The basic structure persevered for the next two decades, even surviving a severe nor'easter in 1920, albeit with significant damage. But a storm in 1928 proved to be too much. The boardwalk was damaged beyond repair, and had to be replaced.


The Second Boardwalk:
The brand new boardwalk was constructed in the early 1930s from 32nd Street to 49th Street, and appears to have been later extended to 60th Street. The Camden Morning Post of May 25, 1939, reported that the complete boardwalk was rebuilt at a cost of $30,000.
It's not clear if the new walk was a structural improvement over the old. But it's a tribute to the city that it was even built at all during the Great Depression.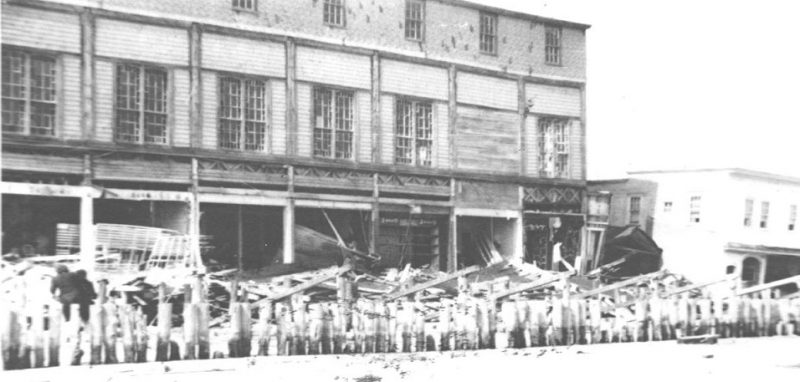 Hurricane havoc from the storm of 1944.


In the 1930s, Sea Isle produced quite a spectacle. The boardwalk was flooded again, but this time with thousands of lights. The buildings were outlined. Streetlights burned the night away. It was like Christmas in July.
Then came the hurricane of 1944. The relatively new boardwalk was decimated. It had to be rebuilt – again.


Boardwalk Number Three:
This time it was to be supported by concrete piers and was expected to last forever, or at least for a long time. But no one had counted on the mammoth nor'easter of March 6, 1962, when most of Sea Isle's beach block was totally destroyed. The entire boardwalk was turned into tinder, and once again had to be replaced.


40th Street and the beach after the 1962 nor'easter. The vanished Excursion House is at the right.


Fourth and Final (?) Boardwalk: The Promenade
This was the third time in its 55-year history that the Sea Isle boardwalk needed a major rebuild. But this time they were determined to get it right. First, the Army Corps of Engineers built up a sand dune along the entire beachfront. Then a new walkway was constructed of asphalt over concrete, reinforced with giant boulders.


It was really designed to last (pretty much) forever. The original structure ran from 40th Street to 44th Street, and was coated green. Later, it was extended to its present length between 29th and 57th Streets.


Formal dedication took place on June 15, 1968, and the whole thing was estimated to have cost of $1 million. Could this highly engineered, reinforced creation persevere? As if to test this hypothesis, on the evening of October 29, 2012, Mother Nature attacked.


Her weapon was Hurricane Sandy, which made landfall with sustained winds of 80 mph. Many parts of Sea Isle were damaged, including the railing on the ocean side of the Promenade. But the Promenade itself shrugged it off.


It may have gotten a little dirty – but it held. It might be said that this ultimate walk, by its construction, sacrifices aesthetic value. "What's a boardwalk without boards?" It's a PROMENADE. And so far, Sea Isle City's Promenade has survived for more than a half-century. Hopefully, this is the end of the story.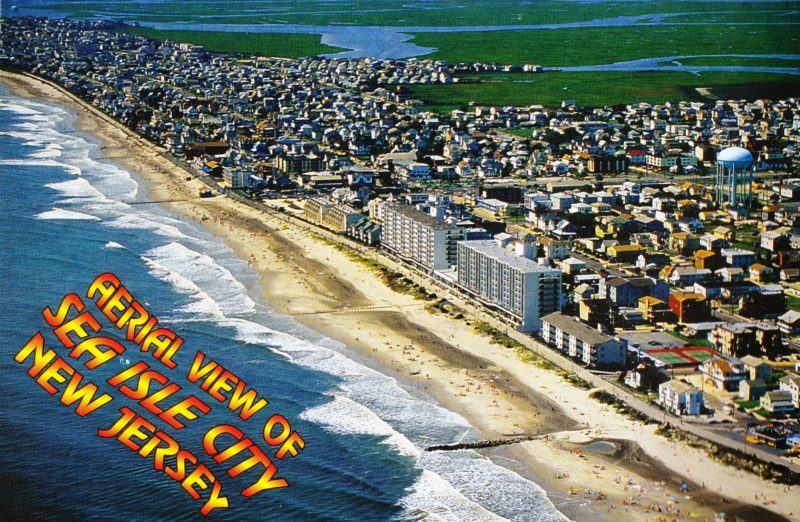 An aerial view shows the Promenade in the 1970s and the twin buildings of the then-newly constructed Spinnaker Condominiums.
The Sea Isle City Historical Museum is located at 48th Street and Central Avenue, but is temporarily closed during the coronavirus pandemic. Visit the website at www.seaislemuseum.com or call 609-263-2992.


This "Spotlight on History" was written by Sea Isle City Historical Society Volunteer Bob Thibault. Photos were provided courtesy of the Sea Isle City Historical Museum and Sea Isle City.