Monday, January 23, 2017 / by Teresa DiPeso
Bill Henfey Park, three blocks from the beach in the New Jersey shore town of North Wildwood, is a placid, grassy rectangular expanse with a children's playground tucked in the corner.


But on summer days throughout Matt Ryan's life, the park has been the site of feisty, heated pickup football games with 20 to 30 of Ryan's cousins, brothers, uncles and in-laws.


The summer games are not for the meek. Ryan, the Atlanta Falcons' All-Pro quarterback, has two brothers who were college quarterbacks. His 6-foot-7, 310-pound first cousin Mike McGlinchey is a left tackle at Notre Dame who could one day be a top N.F.L. draft pick. His uncle John Loughery played at Boston College. The extended family, all living in the Philadelphia area, includes scores of high-level athletes.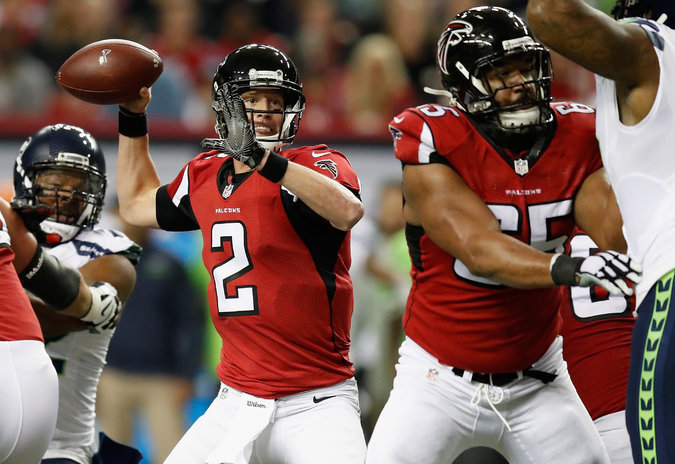 "There's a lot of testosterone down at that Shore house," said Loughery, who was a teammate of Doug Flutie's at Boston College. "It's pretty intense."


Henfey Park is not where Ryan earned the nickname Matty Ice, a reference to a fearless, swashbuckling style that has led to memorable late-game rallies and victories. But it may be where he honed the kind of daring, yet unflappable, confidence that has served him well in nine N.F.L. seasons.


"Those games are the foundation for our toughness and competitiveness," McGlinchey said Thursday. "We've had a few broken bones and trips to the hospital. But we learned a lot that was vital to our development."


Among those presiding over those summer clashes was a family patriarch, Ryan's grandfather Sam Loughery, a Pearl Harbor survivor who drilled into his offspring a mantra: "Games are played with a bat, glove or ball, but never your mouth."


Falcons quarterback Matt Ryan (2) is "a quiet, calm guy off the field," said Tom O'Brien, Ryan's coach at Boston College.


Everyone inside the North Wildwood beach house memorized the canon, including Ryan, which might explain why, despite his many football accomplishments, he remains one of the least publicized or celebrated quarterbacks in the N.F.L.


And every summer, Ryan still returns to the Jersey Shore and Henfey Park.


"The difference now," his uncle John Loughery said, "is that people hear that Matt is down throwing by the beach, and sometimes a crowd comes out to watch."


It is not a big crowd. Or as Ryan, still chasing his first Super Bowl championship, might say, it is not a big crowd — yet.


Read full article