Friday, May 21, 2021 / by Teresa DiPeso
The Shore offers numerous dog parks, dog-friendly beaches, and pet-friendly rental homes, so don't leave the pup behind!

Scroll down for a list of options by town!


Cape May
Cape May's dog park is located at 705 Lafayette Street. All dogs must be registered and licensed before using the park. Prices are $20 for seasonal and $10 weekly. Applications can be made at the clerk's office at 643 Washington St. Park is open dawn-dusk, seven days a week.
Dogs are permitted on Cape May beaches November-March, and they must be leashed at all times. Some stores in Cape May are dog-friendly, but always ask before entering.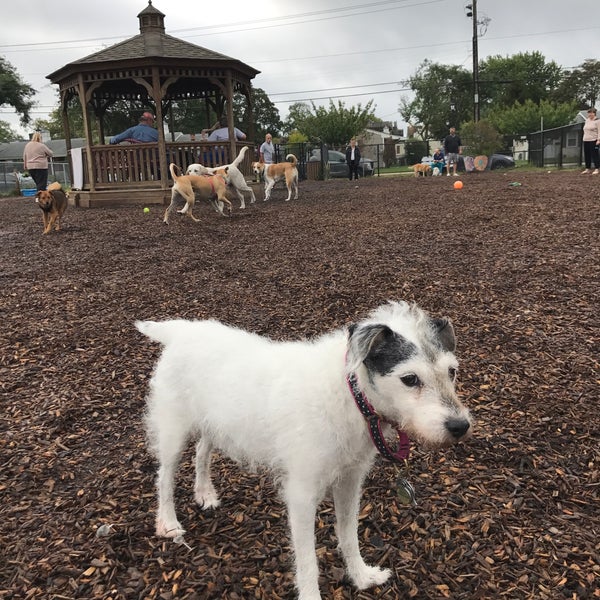 Wildwood Crest
Wildwood Crest has plans for a dog-park, but does not have one currently. Dogs are allowed on Crest beaches October-May, but must be kept on a leash at all times. There is a large dog-park on the beach in Wildwood that is open to anyone.
Wildwood
Wildwood has an enormous dog-park on the beach, between Maple and Glenwood Avenues. The park is open dawn-dusk, and leashes are required until you actually get into the park (then optional). Fresh water is provided.
Dogs are permitted on the rest of Wildwood's beaches October-May, while leashed. Dogs are never allowed on any section of the boardwalk.



Click Here to see

a video of the Wildwood park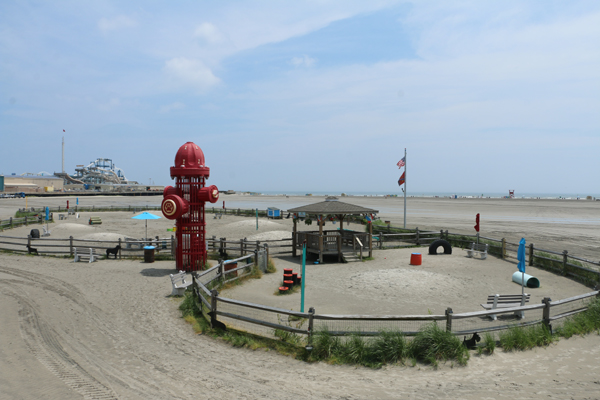 North

Wildwood
A fenced in dog park is located at the 24th Street beach. A permit is required ($10), which you can get at the clerk's office, 901 Atlantic Ave. Hours are 8am-dusk.
Dogs are permitted on North Wildwood beaches October-May, leashed, but are not allowed on the boardwalk at any time.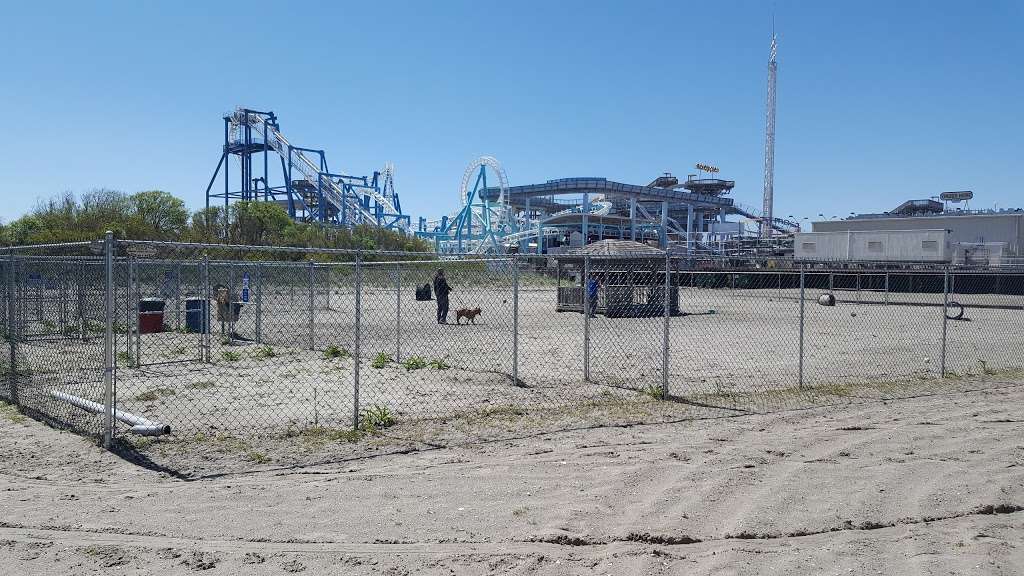 Stone Harbor
Dogs and other animals, under leash, are permitted on beaches, from 7-9PM from June 1 through September 30. Dogs and other animals, under leash, are permitted on beaches at all times between October 1 and May 31.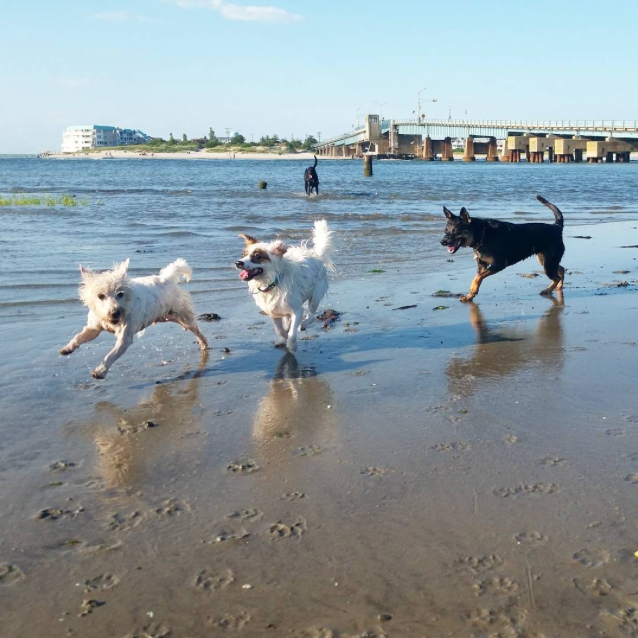 Avalon
Leashed dogs are allowed on the beaches only from September 30-February 28.
Sea Isle City
Sea Isle allows leashed dogs on the beaches and Promenade October-May, but not during summer months. Dogs must be licensed, leashed (no more than 6 feet).
There is discussion for a dedicated dog-park, with a possible site being 42nd Place, across from the municipal marina, at the base of the JFK bridge.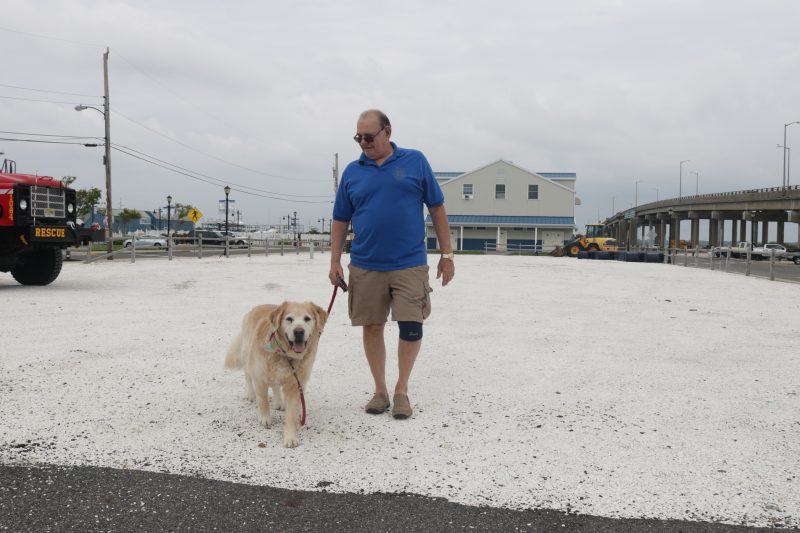 Ocean City
The OC dog park is located at 45th St & Haven Ave.


The 42,000-square-foot park with sandy soil ground cover has three separate areas: large dog area (dogs over 25 lbs), small dog area (dogs under 25 lbs), and dog run area for all dogs.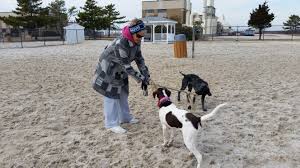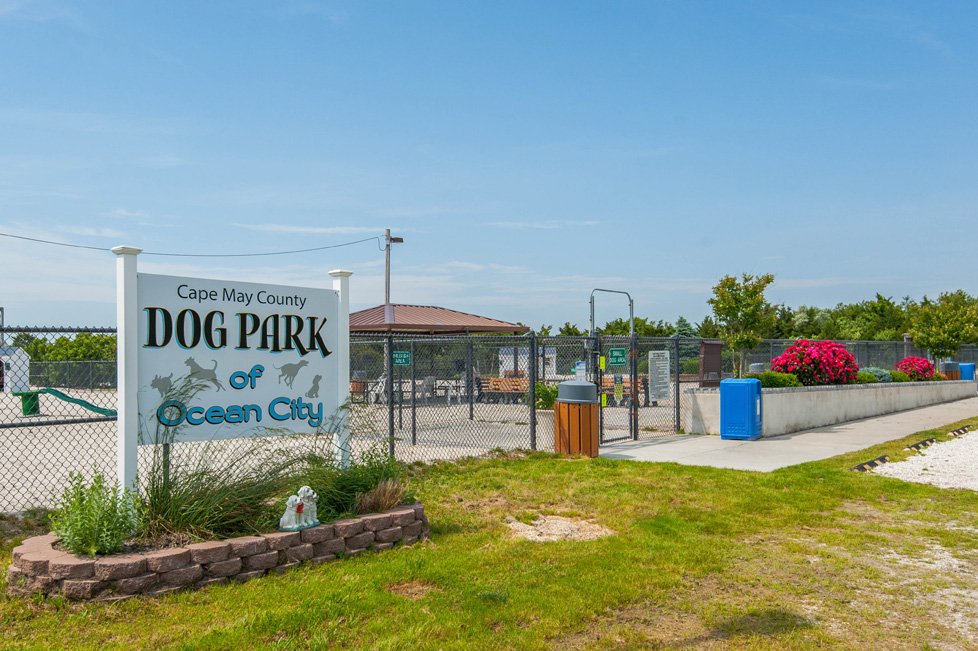 Park facilities include a double-gated entrance and unleash area with secure electronic locking gates, a shared pavilion in small and large dog area with a picnic table in each area, open shed shelters, sitting benches, water fountains for dogs and owners, "pooper scooper" dispensers and disposable bags, trash and recycling containers, several inoperable fire hydrants for doggie relief, interactive play equipment, a Port-a-Potty, free off-street parking lot and a designated handicap area.
Park hours are from 8 a.m. to dusk, 7 days a week, year-round.
An access card, or "Paw Pass" is required to gain entry into the park.
Paw Pass Cost:
Cape May County Resident: $30 yearly
Non-Resident: $40 yearly
Visitor: $10 weekly
Replacements: $5 charge for damaged or second cards
Expiration Date: One year from date of issue
Applications and Paw Passes:
Print Paw Pass Application Form (includes rules and regulations, and etiquette guide)

Drop off and submit payment at the City Hall Welcome Center (861 Asbury Avenue), the Henry S. Knight Building (115 E. 12th Street), the Ocean City Aquatic and Fitness Center (1735 Simpson Avenue) or the 46th Street Information Center (46th & West Avenue next to the Post Office & Fire Department)

Call for hours and information: 609-399-6111 or 609-398-6900.
Items needed with the application:
Proof of current dog license

Rabies vaccination certificate

Check or money order made payable to City of Ocean City