Sunday, January 3, 2021 / by Teresa DiPeso
If you're anything like us, you're feeling more than ready to finally be done with 2020 and dive into 2021. And one of the best ways to ring in the new year with (besides Champagne) is a fresh look and new decor.


That's why we're back this week with five of the hottest looks on Instagram that will transform your space, this time with an eye on the bathroom. After all, what better place to get a fresh start than in the place where we're all scrubbing away the stress of 2020?
So what are you waiting for? After such a tough year, it's time to turn your bland bathroom into the spa oasis you deserve. If you're ready to take on 2021, here are five styles to help you do it.
1. Retro green tile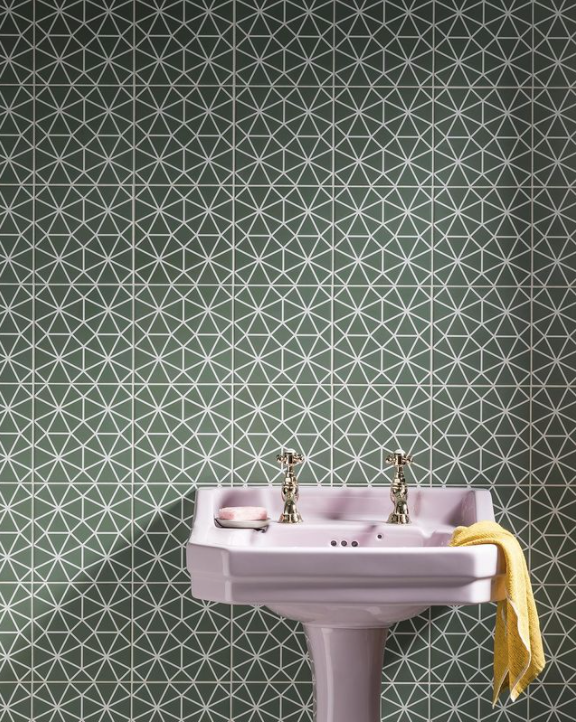 We're seeing a resurgence of retro styles, and this fresh green look from @mandarinstoneofficial is no exception.


"Green is the new neutral, and with wonderful benefits," says Michelle Harrison-McAllister of Michelle Harrison Design. "This color plays well with both warm and cool tones, making it great for any style. Geometric tile patterns add a hip vibe to any bathroom, not to mention the color itself boosting feelings of calmness, renewal, and harmony."
Get the look: Shop for a similar shape with a lush botanical twist at Amazonia Emerald tile.


2. Bath-side mural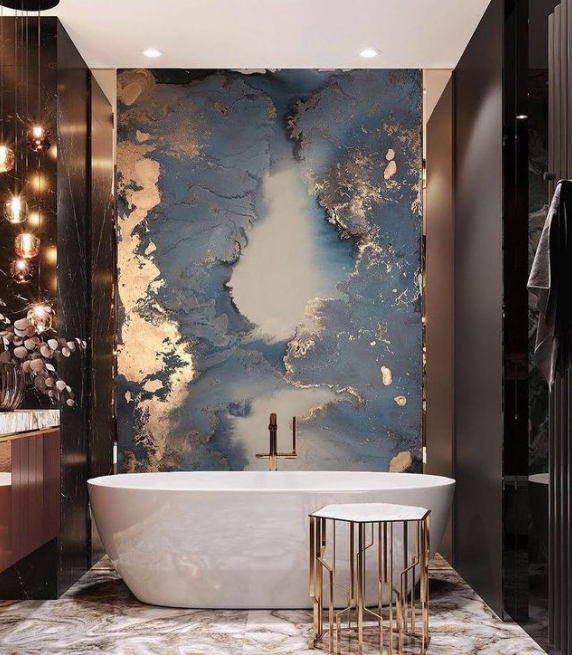 If it's a bold artsy statement you're looking for in the new year, then look no further than this bath-side mural trend from @billionairesinterior.


"Murals have proven to be the high-impact art option for bathroom decor," says Harrison-McAllister. "With so many options to choose from, we're no longer restricted to permanent tile design detail. Self-adhesive ones from Etsy give you a custom bathroom design that is upscale and also makes you feel like you're in a fancy European spa."


Get the look: Bring those European spa vibes into your bathroom with this gorgeous collection of vintage-inspired murals from Etsy.


3. Double sconce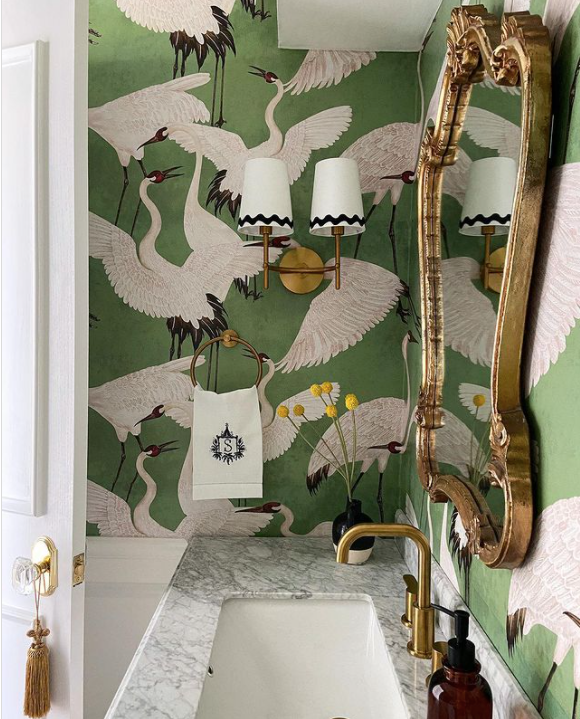 Add some old-world sophistication to your bathroom in the new year by upgrading your light features to a double sconce like this one featured by @design.playbook.
"We're seeing big influence from midcentury modern and art deco styles with these minimalist, brass double wall sconces," says designer and CEO Mark Wood of National Pool Fences.


"Overhead bathroom lighting can be harsh and uninviting, and installing a double wall sconce can give a more soft, flattering light," says Wood. "It's also the perfect way to bring more light to a smaller space, and makes the room feel more relaxing as if you're staying in a five-star hotel."


Get the look: Illuminate your way into five-star style of your very own with this Safavieh Lighting Ezra wall sconce.


4. Eclectic wall art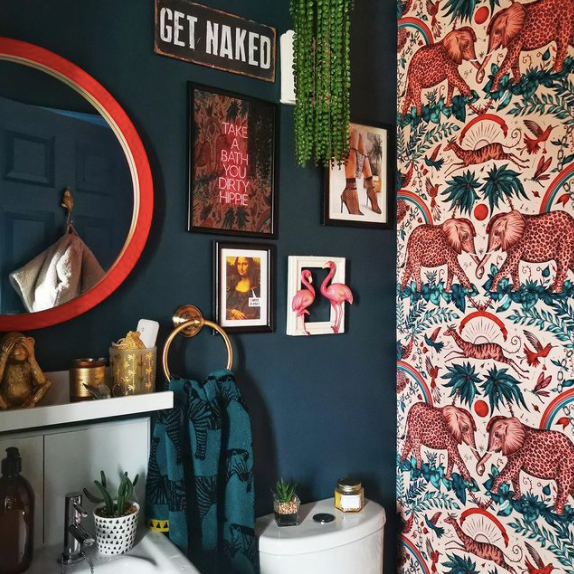 If big, bold statements are your vibe for 2021, then you'll love this artsy bathroom design from @eclecticfoxhome.


"Try mixing up different art mediums, styles, and eras to help create a well curated, personalized bathroom decor," says Harrison-McAllister. "This doesn't have to cost you a fortune either. Simply mix up pieces from Target, Minted, or even yard sales to add a unique style element to your bathroom."


Get the look: Explore these one-of-a-kind prints from artists on Etsy.
5. Bathroom barn door
Last but certainly not least is one of the most unique design elements we're taking with us into the new year: this bathroom barn door from @ourlittleflintcottage.
"One easy way to personalize your home decor style to a quaint cottage vibe is to switch out your classic bathroom door for a barn door–styled one," says Harrison-McAllister. "These barn doors are a simple yet impactful change that will leave people wondering if you redesigned your whole home."


Get the look: Bring some effortless cottage charm to your bathroom in the new year with this knotty alder interior door slab.


Contact me today to help you buy, sell or rent at the Shore!
Call or text 609-780-1434





article courtesy of realtor.com