Friday, April 7, 2017 / by Teresa Dipeso
Everyone loves balloons, right? So whoever came up with the term "balloon mortgage" was a marketing genius (now, all you need is a clown to hand these loans out and they'd sell like hotcakes). Still, though, what exactly is a balloon mortgage?
Simply put, a balloon mortgage is so called because the monthly mortgage payments start out small and then, near the end of the loan, expand exponentially.
"The idea behind a balloon mortgage is simple," says Glenn Carter, real estate investor at Condo.Capital. "It's a short-term loan where you pay the bulk of the principal at the end of the loan term."
Balloon mortgages can be a boon to certain buyers, but only if they're truly prepared for the endgame when payments skyrocket. Here are the hard facts lurking behind this home loan's misleadingly buoyant name.


Benefits of a balloon mortgage
A balloon mortgage has one mighty advantage over other loans: a really low interest rate. If you line up all the rates that you might consider for a home loan, a balloon mortgage usually will stand out with rates considerably lower—perhaps up to a full percentage point lower—than a 15-year or 30-year fixed-rate loan.
That means you'll pay considerably less interest per month—and over the life of your loan. For example, someone borrowing $200,000 on a 30-year, fixed-rate mortgage at a rate of 4.5% can expect monthly payments of about $1,000 and a total payout of about $165,000 in interest over the life of the loan. But if you borrow that same $200,000 on a seven-year balloon loan, where the rate of 3.5% is fixed for seven years, you'll enjoy monthly payments of about $898 and pay only $45,529 in interest.
All this good stuff comes, of course, with a catch.


Risks of a balloon mortgage
The term of a balloon mortgage is very short, typically five to seven years. At the end of that term, you'll be required to pay off the remaining principal balance in one big chunk called, appropriately enough, a balloon payment.
So, let's continue with the above example of a $200,000 loan. With a seven-year balloon mortgage, by the time those seven years are up, you'll have to cough up $170,987.28. Yes, all at once.
In other words, balloon mortgages are kind of like a cheery clown who suddenly pulls a bloody knife and asks for your wallet. Nonetheless, balloon mortgages do serve a legitimate purpose in the home loan ecosystem.


Should you get a balloon mortgage?
Folks who take out a balloon mortgage usually have a strategy. They have either enough cash—or expect to have the cash from an inheritance or bonuses—or other liquid assets to safely cover the balloon payment when it arrives. Meanwhile, they enjoy the low rates and relatively low monthly payments their balloon mortgage affords them.
Or, many of these borrowers plan to move before the balloon payment is due, allowing them to sell the home and close out the mortgage before that massive final balloon payment is due. For those who like flipping houses, a balloon mortgage is a very business-friendly way to acquire properties, fix them up, and move on before getting hit with the big end-of-loan payment.
"It's a great option for short-term homeownership where the home is sold prior to the last payment being due," says Kim Wirtz, a real estate agent affiliated with Century 21 in Lockport, IL.
While those strategies are fine, the one thing no one can really account for is the future. A lot can happen in five to seven years, including unforeseen circumstances that change a person's financial security. If that happens, a balloon payment could be devastating, draining someone's savings or retirement dry, if they even have enough to cover it at all.
Another worst-case scenario? Real estate prices could fall dramatically, leaving homeowners on the hook for a balloon payment when 1) they aren't going to recover the cash they thought they would for the property,
or 2) people are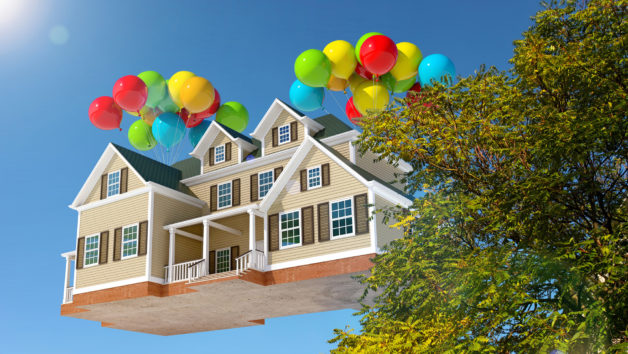 n't buying and the property remains unsold.


What to do if your balloon mortgage goes bust
As scary as balloon mortgages might sound, there is a way out: It's possible to refinance a balloon mortgage into a conventional 15- or 30-year loan. The catch: If you're cash-strapped or your property value has taken a dive, lenders might be reluctant to help you refinance. And, if they do, you might find yourself facing higher mortgage rates than the ones you tried to avoid in the first place.
An alternative to a balloon mortgage is its close cousin, the adjustable-rate mortgage, or ARM. The typical ARM, for example, can have a fairly low interest rate that's similar to the balloon mortgage, but there's no balloon payment due. The first years of an ARM are fixed at an attractive rate, but after that initial period, the rate fluctuates along with general changes in lending rates. ARMs also have protections for borrowers in the form of caps that their rates can't exceed.
Bottom line: Make sure you know all the types of mortgages that are at your disposal to make sure you find one that's right for you. Check out this mortgage calculator to crunch your own numbers and figure out what you can afford.










courtesy of realtor.com