Saturday, July 23, 2022 / by Teresa Dipeso
Remember when Marcia, Jan, and Cindy Brady used to share the same bathroom with Greg, Peter, and Bobby? If you do (hello, fellow "Brady Bunch" fan!), then you've seen a Jack-and-Jill bathroom.
A Jack-and-Jill bathroom is a space that works in conjunction with two bedrooms, allowing the spaces to have a conjoining, en suite bathroom.
Traditionally, Jack-and-Jill bathrooms were found in homes for larger families and were shared by siblings.
And although these bathrooms get their name from the 18th-century English nursery rhyme ("Jack and Jill went up the hill…"), modern iterations of this shared bathroom are still called Jack-and-Jill.
Toying with incorporating a Jack-and-Jill bathroom into your home? Here are some things to know about this bathroom style.


Features of a Jack-and-Jill bathroom
A true Jack-and-Jill bathroom is situated between two bedrooms and can be locked from either entrance. It can also sometimes be accessible from a third hall entrance.
Jack-and-Jill bathrooms typically have a dual vanity with separate sinks and share one toilet. However, they sometimes have private bath, shower, or toilet areas.

Benefits of a Jack-and-Jill bathroom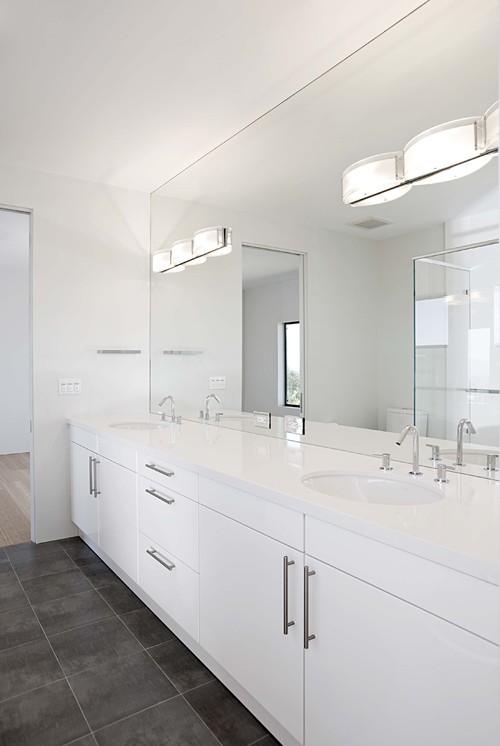 While Jack and Jill were just two siblings, the benefit of this bathroom is its space-saving size, function, and ability to accommodate multiple family members. Plus, it can eliminate the need for a second bathroom and save you money
It's a great way to give two rooms an en suite bathroom without having to actually have two individual bathrooms.
And while certain tasks require privacy, this layout can be good for young kids sharing a bedtime routine or older kids who can share a space to do nightly and morning routines, like brushing their teeth, putting on makeup, and blow-drying their hair.


Drawbacks of a Jack-and-Jill bathroom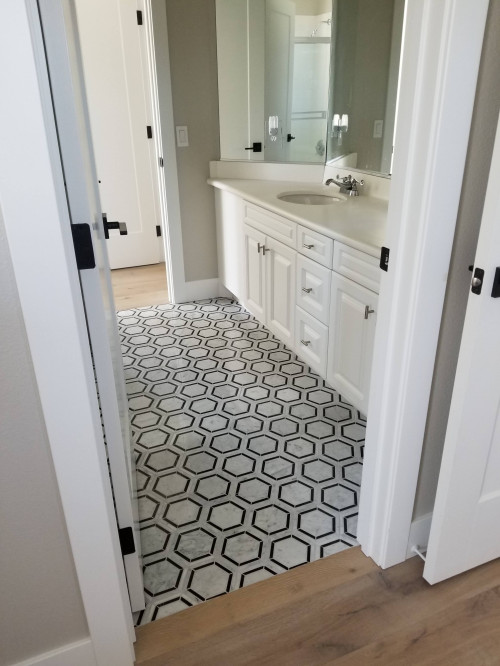 While having a full-size Jack-and-Jill bathroom can be convenient for larger families, there are some disadvantages such as lack of privacy. If this is the only other bathroom aside from the bathroom in the primary suite, guests will have to walk through a bedroom to reach the bathroom, which could be uncomfortable.
Also, the bathroom being locked to certain bedrooms can make it less used over time.
Two doors that feed into one room can always be complicated. People get locked out, or walk in on one another, and noise can be an issue.
Having that extra entrance can create design challenges when it comes to deciding where to put fixtures where people need privacy like the tub and toilet.
And, if you're planning to sell your home in the future, a bathroom like this could be less appealing to buyers who don't have large families or similar needs.


Jack-and-Jill bathroom ideas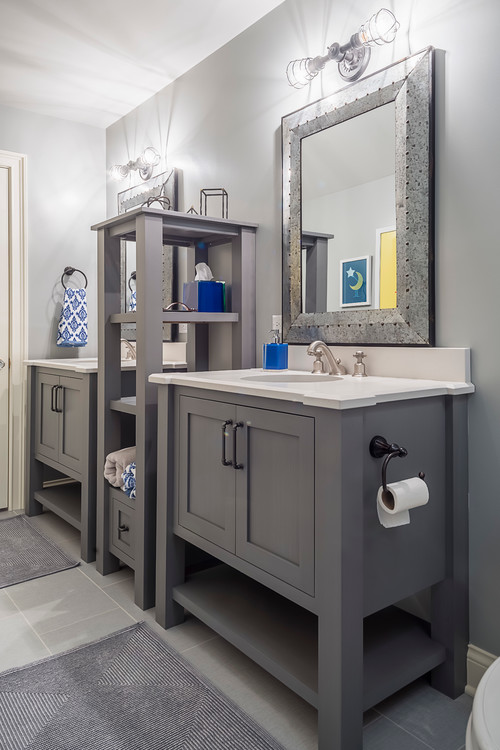 Even though you might not have as much flexibility with the layout of a Jack-and-Jill bathroom, you can certainly customize this space to your liking.
Designs for Jack-and-Jill bathrooms typically include doubles of everything, like sinks, towel bars, light switches, shelving, and storage.
Homeowners can customize the space by including a toilet stall, or water closet, that will add privacy and allow other parts of the bathroom to be used at the same time.
You can also put in a separate tub and shower unit.
Another stunning option, when space allows, is to install two vanities with doors and shelves.
And if you have the square footage, add a linen closet for extra storage.
---