Saturday, June 5, 2021 / by Teresa DiPeso
Every year in Cape May there is a lot of changeover as new businesses open and others close up shop for good. Due to the challenges of 2020, there seem to be more closures than years past, but we're excited to see new establishments eager to be a part of the Shore community.

Here are some of the biggest closures and new businesses in Cape May and nearby:
Food & Dining
In January, chef Lucas Manteca announced the closing of the Red Store in Cape May Point on their Facebook page. For now, you can order items like Smart Seasoning, hot sauce, and frozen empanadas (those are available for pick-up only from their Rio Grande location) at redstorelove.com. According to the website, they'll soon be introducing dining experiences.


We have sad news for fans of Louie's Pizza: they will not be operating in Cape May this summer. The pandemic has made it necessary for this Cape May summer staple, which has been a local and visitor favorite since I was a kid, to find a new home. According to an April 23rd article in the Philadelphia Inquirer, the Abdelsalam family is raising funds to reopen closer to where they live.


We've learned that Gecko's will not be operating their restaurant this summer. They posted a goodbye message on Facebook in October 2020. If you'll miss their onion dressing, they have offered to sell it.

Enough bad news. Here's something happy: George's Place is opening a second Cape May location in Washington Commons next to Mario's Pizza. Their restaurant at 301 Beach Avenue will also be open for the season. According to their website, the Washington Commons location–known as George's Cape May–will serve the same menu as the original and be open for breakfast, lunch, and dinner. They also accept online reservations through OpenTable. (Reservations for George's Original, the beachfront location, still need to be made by phone or in person.) This brings George's Place up to four locations: two in Cape May, one in Cape May Court House, and one in Wildwood Crest (more about that below). George's Place is part of the Kara Restaurant Group.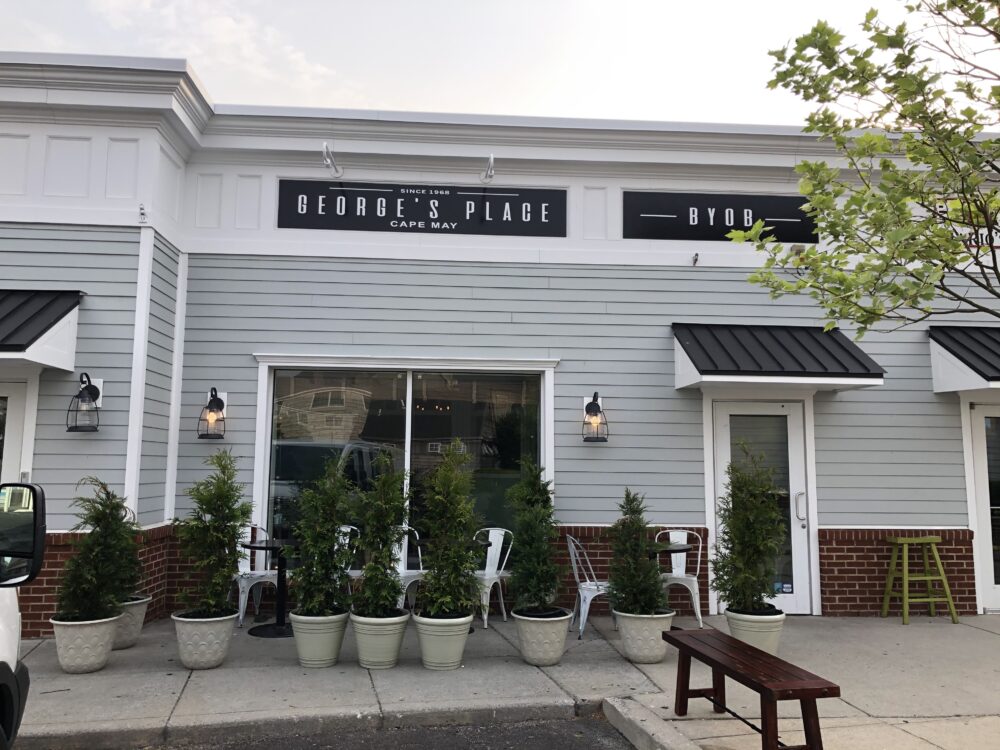 The Original Fudge Kitchen has changed hands and is celebrating its fiftieth year in business. Their fudge is locally hand-whipped in small batches. If you don't live close enough to pick up a box, they can always ship one to you. In addition to Cape May, they have locations in Wildwood, Stone Harbor, and Ocean City.

Great news for cheese lovers still mourning the loss of Seaside Cheese: Carl and Susan Spatocco, the people behind Cape May Peanut Butter Co., are opening The Cheese Shop in the former Across the Way location (more about that below) at 304 Washington Street. They plan to carry made-to-order cheese and charcuterie boards, Napa-style sandwiches, cheesecakes, and fresh mozzarella and burrata.


We have a few new places to try up on the promenade! The first is La La Lobster at 732 Beach Avenue. They have a streamlined menu that features mostly—you guessed it—lobster in the form of rolls, bowls, mac & cheese, and grilled cheese, but their signature item is the $50 La La Monstah Roll featuring a whole pound of lobster meat (and you get a t-shirt).

If lobster's not your thing, they have a couple of shrimp options and New England Clam Chowder, but this is definitely a seafood restaurant. Prices range from $10-20 for an entree. Cape May is one of three locations, with others in Princeton, NJ and Yardley, PA.
Next door at 730 Beach Avenue, El Pueblo Taqueria is opening their second location (the original is in North Cape May). Ruben Nunez tells me the new menu will be similar to the one at their NCM location but will have more seafood options.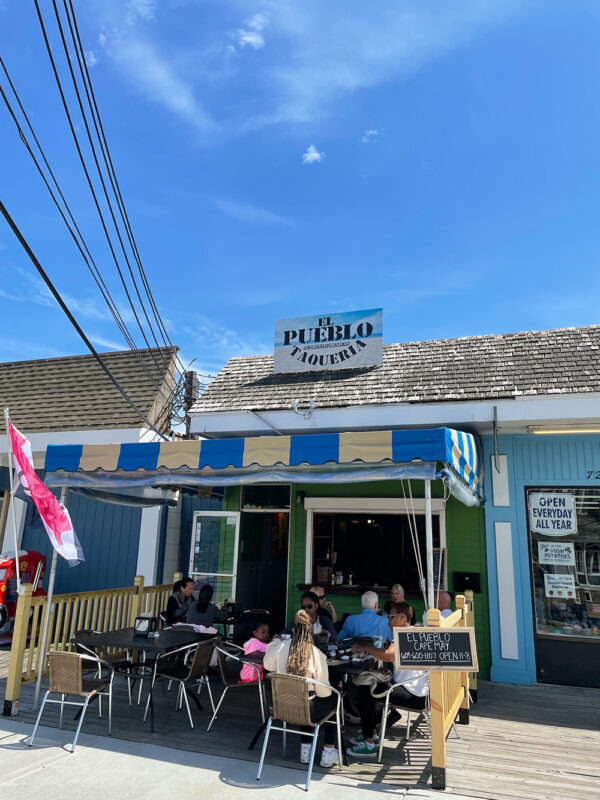 Across from Convention Hall, Zoe's Cape Cafe has been replaced by Patty's SteakOut. According to their Facebook, they'll be open by the time you read this, serving up breakfast items like crab omelets and french toast, and customizable hoagies and cheesesteaks for lunch and dinner. Also on the menu? Fried cheesecake bites. Sandwiches range from $4 to $12.95, drink refills are on the house, and they take credit cards. The kids' menu offers the standard chicken tenders and mac & cheese, but the a la carte menu will provide options for choosier eaters.
Primal, the new seafood restaurant on the beachfront at 406 Beach Avenue between Jackson and Decatur, is finally able to open! We announced Primal and its sister Prawn in last year's roundup, but the pandemic made 2020 a no-go for the sit-down restaurant. The new interior is sleek: hard floors, high-backed lime green dining chairs, industrial lighting above the tables, and heavy canvas curtains that can be pulled across the windows if the sun is too strong. Since it's actually built out over the sand, Primal will offer unobstructed views of the water, and has a custom art installation by Robin Altman created from preserved moss. We haven't seen the menu yet, but based on their website's photography, we anticipate steak and seafood. As of press time, they were close to opening and waiting on their mercantile license.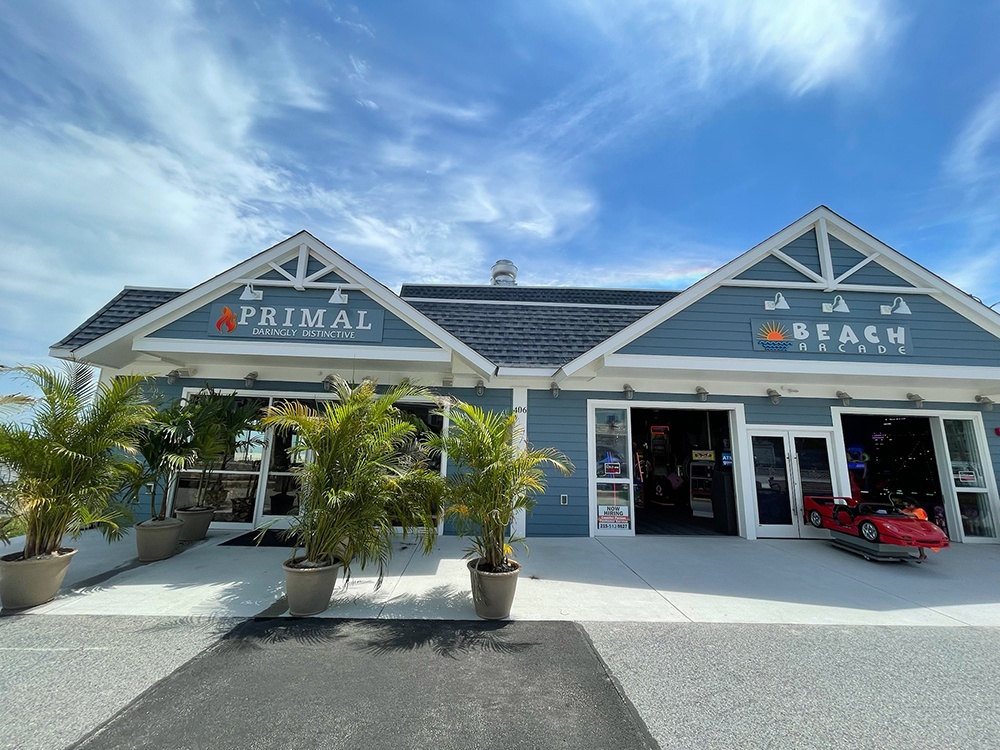 Across the street at 411 Beach Avenue, Carney's has a fresh new look. They were undergoing exterior renovations in February to fix storm damage to the balcony. The formerly dark beachfront building has new gray and white exterior paint, and they've flanked the columns outside of The Other Room with potted palms. Currently, part of Beach Avenue is still sectioned off to allow space for outdoor dining.


Down a block at 307 Beach Avenue, Playa Bowls is opening up a Cape May location in the Akroteria. This is the brand's 114th location and will open in partnership with Joe Wallash, a local entrepreneur. Wondering what a playa bowl is? They're a spin on acai and pitaya bowls, and can be made with a base of either, or other options like coconut, banana, and chia seeds. Imagine a sorbet with fresh fruit on top. Playa Bowls also serves oatmeal bowls and blended smoothies. And if pre-ordering is your thing, you can pay online and simply pick up your order (perfect for people like me who take a long time to read a menu).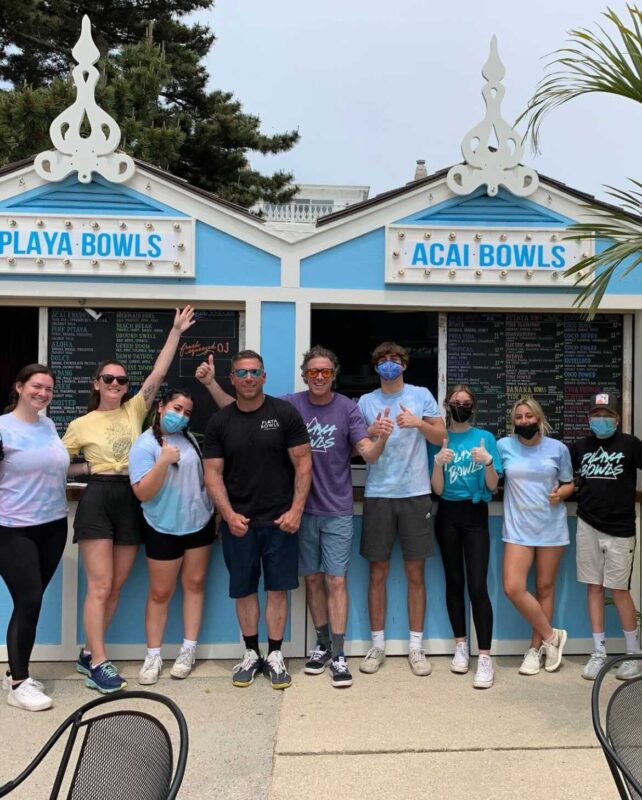 In December, Stewart's Root Beer at 502 Washington Street announced their closure on Facebook. They operated on the Washington Street Mall from 2012 to 2020. If you loved the burgers, there's a silver lining: the modern-meets-retro franchise still has thirty open locations. You can find one close to you at stewartsallamerican.com. Sunflowers has taken over the space (more about them below).


We missed this one last year: Madison's Bakery & Coffee Shop slid into the spot at 505 Carpenters Lane that was previously used by RSK Donuts. Madison's is a family owned and operated bakery that prides itself on "quality interpretations of classic baked goods and daring new pastries." This is the bakery's second location. The first opened in 2016 in the Beach Theatre complex across from Convention Hall. And now they're just steps from our office! We hear the sticky buns are worth trying.


If you loved those little RSK Donuts, don't worry! They took their business on the road in a food truck and are also available for private events. They're keeping the menu simple: bags and buckets of their original mini donuts (plain, powdered, or cinnamon), or get your fix with The Fancies: a dozen little donuts served in a small boat, in one of six flavors. They also have coffee and occasionally cinnamon buns. You can keep up with their location via their Facebook page.


Lucky Bones actually introduced their Rollin' Bones food truck in the fall of 2019, but we missed it last year in the chaos.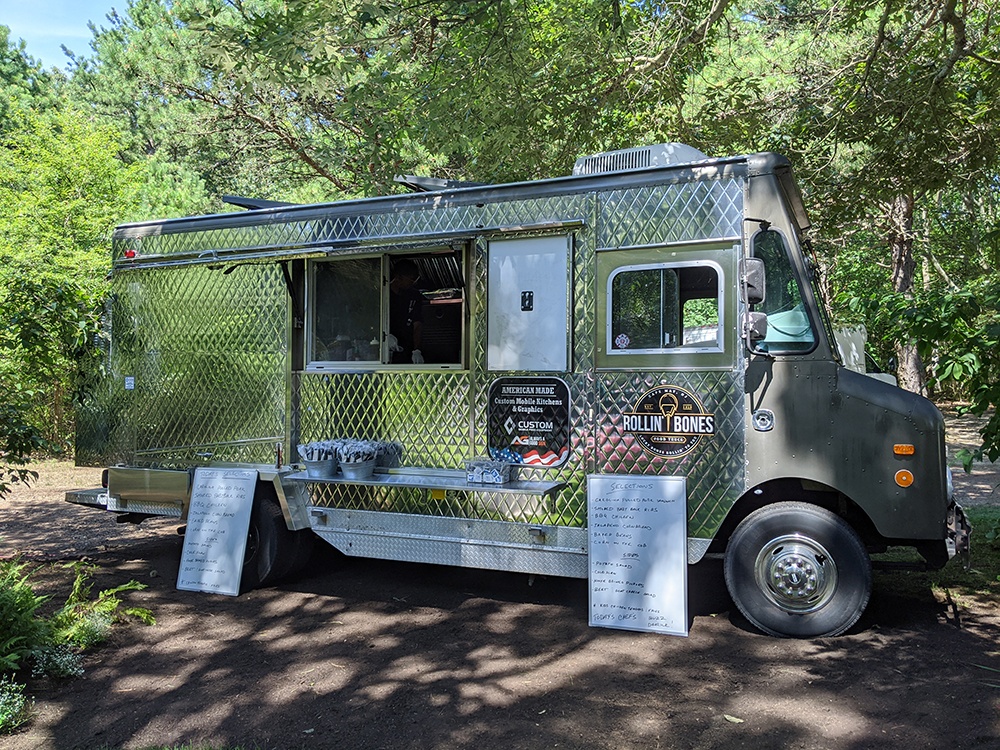 Accommodations
The Queen Victoria at 102 Ocean Street has sold, but we've confirmed with the broker that it will continue to operate as a B&B under the new management, and that the staff will be staying—except for longtime innkeepers Doug and Anna Marie, who are retiring to Florida. When you hear about the Queen Vic, like me, you probably think of the iconic green Victorian at the corner of Columbia and Ocean, but the B&B actually spans three buildings and includes Prince Albert Hall (which sits behind it) and the House of Royals (across the street). All three date from the 1880s. You can read more about the history of the three buildings on the Queen Victoria's website.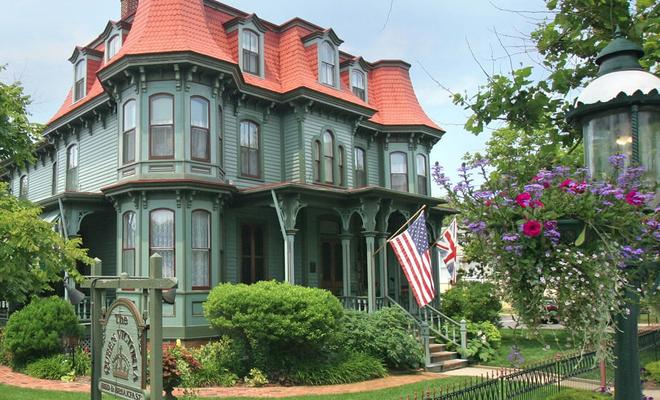 In April, the circa 1882 Mooring Bed & Breakfast at 802 Stockton Avenue was sold to Rhythm of the Sea owners Amy Kao and Lu Rexhepi. Unlike other Cape May inns that were originally private homes, the Mooring was designed to be a guest house, which is reflected in its wide hallways and stairs, and twelve-foot ceilings. Amy told me that they'll continue to operate it as a B&B, and you won't see many changes in 2021. We wish all the best to Leslie and Vince, who painstakingly restored and operated the Mooring since 1993.


Cape Resorts Group has purchased the Hotel Alcott (107-113 Grant Street) to use as staff housing. The Alcott was Cape May's second-oldest operating hotel. Originally named the Arlington, the Italianate-bracketed villa opened as a resort hotel in 1878 and operated until 2020. At its end, the hotel offered thirty-one guest rooms and an on-site restaurant, La Verandah.

Last summer, Peter Shields Inn opened their Inn Town Suites at 215 Decatur Street, on the corner diagonally across from Fins. Above the first-floor boutique Willow & Stone (more about them below) are two suites named after the intersecting streets that mark the inn's location. Both the Carpenter and Decatur offer a king-size bed, sitting area with a pull-out couch, kitchenette, electric fireplace, modern bathroom, and private deck. Plus elevator access to the second floor and on-site parking. The building underwent renovations in 2019.


The Grand Hotel is sporting a new coat of paint just in time for the summer season! And Poor Richard's Inn on Jackson Street, which is now a private home, also has a new paint job. Poor Richard's was sold in late 2015.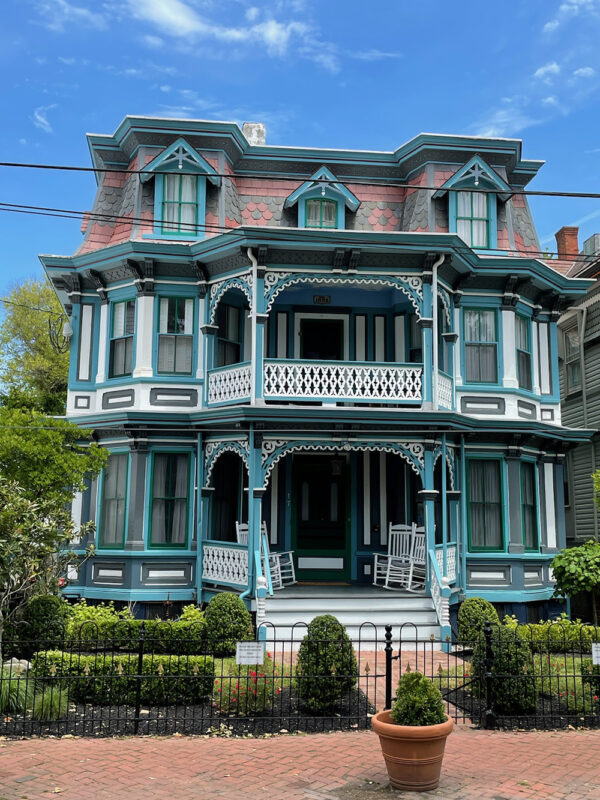 Shops
The Washington Street Gallery formally closed its doors on January 2nd, but if you were hoping to have something framed, Tracy Vega (an employee for more than twenty years) has started her own business, Tracy's Art of Framing and is available by appointment.


After thirteen years in their location at 304 Washington Street (in what was formerly the Golden Gull and is now The Cheese Shop), Across the Way has moved…across the way and now sits in the former Washington Street Gallery, right next to their sister store, Madame's Port.


On the ground floor corner of Decatur and Carpenters Lane, diagonally across from Fins, is the new store Willow & Stone. You might have seen our post from last summer when they first opened. Willow & Stone joins its sisters Good Scents and Red Oak Trading Co. in bringing unique goods to Cape May. Their focus is on sustainable, eco-friendly apparel and accessories for men and women. Their Instagram is a showcase of breezy, effortless ideas for work or relaxing (think leggings and lightweight hoodies) or a day on the beach.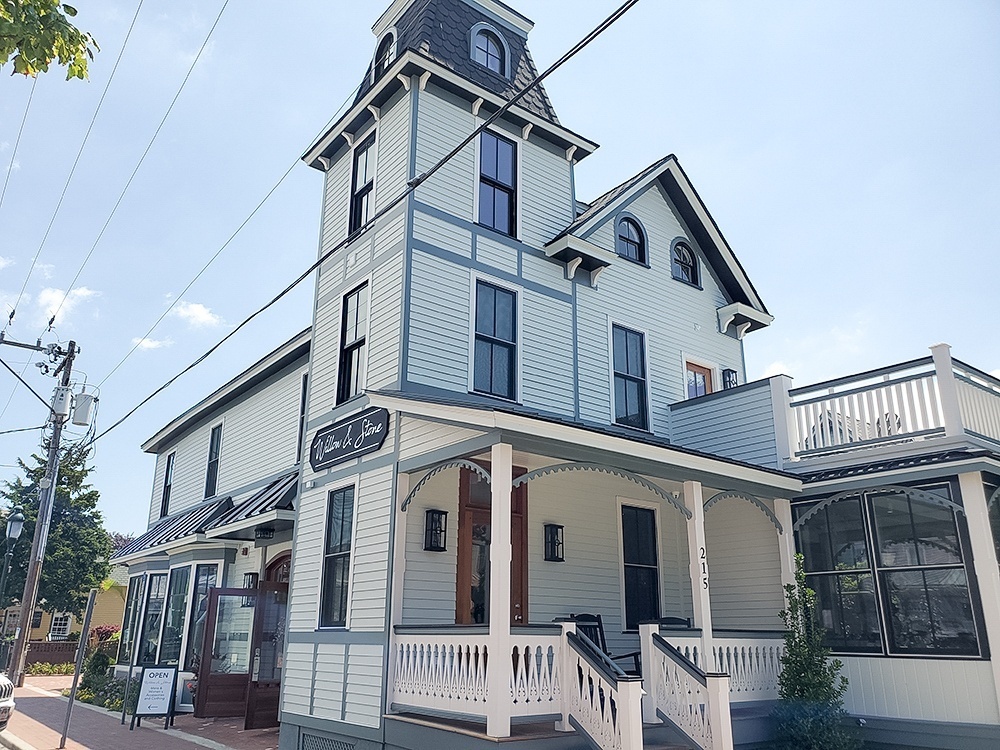 As we mentioned above, Sunflowers has settled in at 502 Washington Street, the tall corner building where Stewart's Root Beer had operated since 2012. (It was Atlantic Books before that and a bank when I was growing up.) This boutique, which carries clothing brands like Free People and Lilly Pulitzer, is part of the LSL Brands family that includes Lace Silhouettes and the Cotton Company. Sunflowers has another location in Lahaska, PA.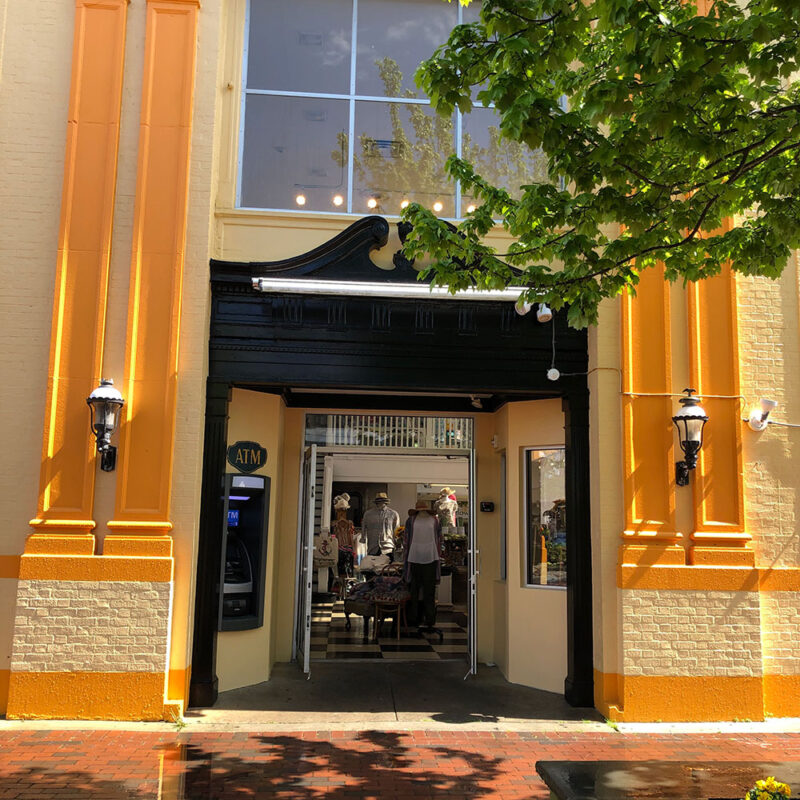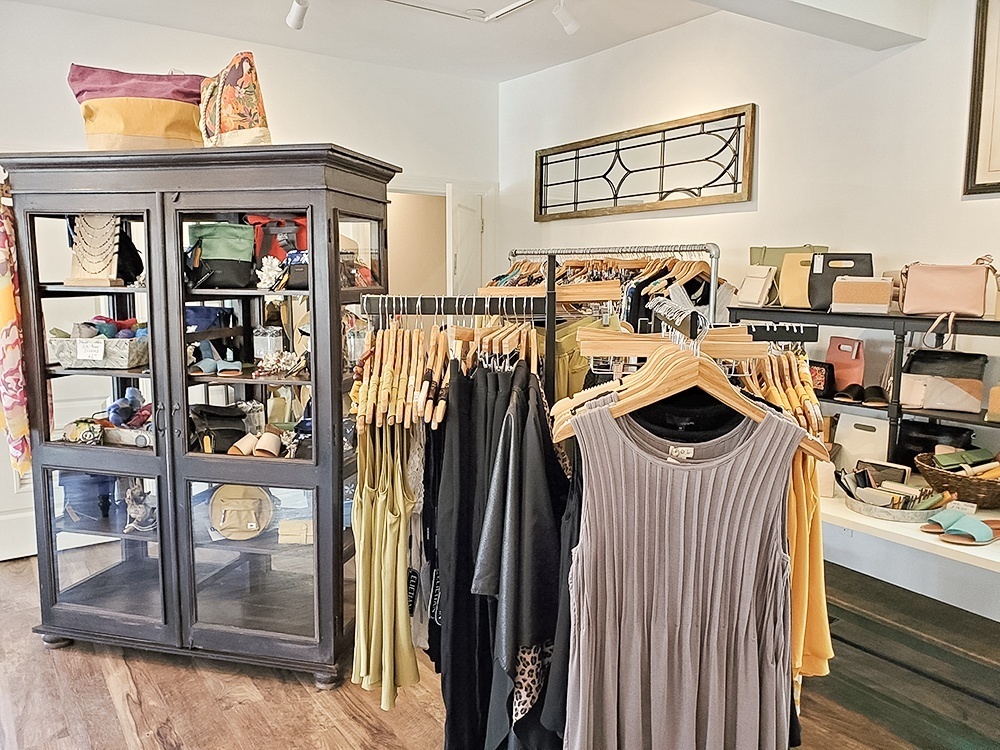 Another newcomer to the 500 block will be the The Museum of Fine Arts and Popular Culture, a non profit organization opening in Liberty Way according to our contact from the Washington Street Mall. We'll give you more details when we have them.
Cross Ocean Street and you'll find the new women's boutique Louella in Washington Commons. Established in 2012, the brand carries a mix of on-trend pieces and classics, and has locations in Avalon, NJ and both Wayne and Malvern, PA. In addition to clothing and accessories, they offer a curated selection of drinkware and home decor items such as trays and ring dishes.


Acme Markets, the building to its right, and the two parking attendant booths have a fresh paint job that unifies the appearance of Washington Commons. The parking lot was resurfaced last April.
Down the street, White, which opened in 2012 and was one one of our favorite stops for decor and accessories, has closed. But the corner shop at 605 Hughes Street isn't empty. Serafina Boutique has moved in and appears to have a similar inventory, though with more color. The day we visited, a pink dress was calling to us from the window.
Leisure
The charter fishing boat Porgy IV, which you might have passed by if you came in over the main bridge, has sold and the boat has left Cape May. We wish Captain Paul all the best!


Pedego Electric Bikes opened for business during the pandemic and has moved into 110 Park Boulevard across from CVS Pharmacy. If you're new to the concept of electric bikes, they're similar in appearance to traditional bicycles, with quiet electric motors that allow them to move faster and get you up hills without hurting your knees. (Yes, you still pedal!) Pedego offers e-bikes for both sale and rental, and they've put together self-guided tour packages and a guided sunset evening tour. Rent an e-bike for four hours or a whole week.


The Revolution Rail Company, aka Revrail, is offering a new kind of activity to Cape May: railbiking. The ninety-minute, four-mile trip runs on the railroad tracks out and back along the Garrett Family Preserve. Check in behind the Welcome Center at 609 Lafayette Street. Reservations are a must. Railbiking is family friendly, but kids need to be in a front-mounted carrier (like the Baby Bjorn) or in their own seat. For safety reasons, kids can't sit on laps, but Revrail has a five-point harness system for toddlers and seat belts for kids over four. They also operate along the Hudson River in North Creek, New York.

We've been told that the Great American Trolley Company has closed its business, but Cape May MAC is still around for wedding-day transportation.
On the promenade across from Jackson Street where Primal Restaurant has opened, you'll still find an arcade, now with a new facade and sign. Beach Arcade was open when we stopped by in early June.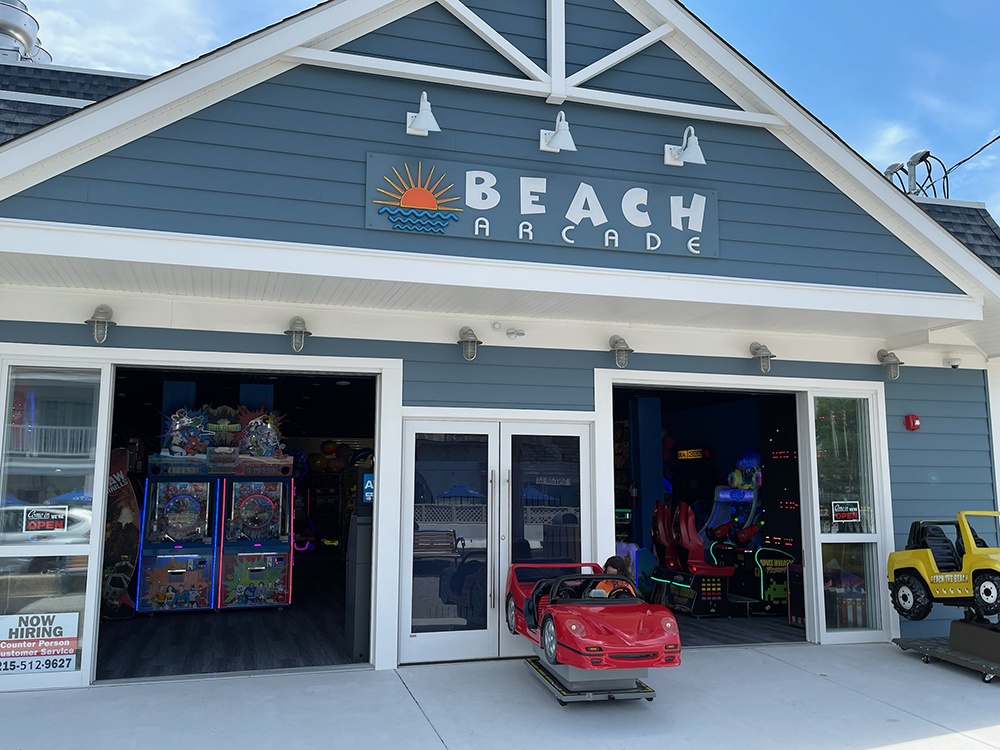 North of the bridge
Exit Zero is moving into the Cape May-Lewes Ferry terminal in North Cape May. They posted on Facebook that they'll operate the dockside restaurant this summer with their own menu, and have a two-year renovation plan in the works. They've also added a food truck, the Curry Express.

We have a few changes to report in Rio Grande:
Ulta Beauty opened in the Grande Center next to Marshall's and Aldi. In addition to beauty and hair care products, they also have a salon that offers styling, color, facials, and makeup.


Rio Grande is also home to the new Chipotle Mexican Grill—a fast-food chain you might know for their built-to-order burritos. They've opened at 1705 Route 47 South. The location is a Chipotlane, meaning it offers online and mobile ordering with easy pickup (no getting out of the car required).


In the Shop Rite plaza, you'll find the new Planet Fitness next to Pet Smart at 1500 Route 47. It opened last year.


Tractor Supply Co. has opened at 3901 Route 9 South, in the old K-Mart location. Check it out for pet food, outdoor recreation supplies, and gardening.


In late 2019, NJ.com announced that the owners of Harbor Theater in Stone Harbor were involved with a new entertainment center in place of the former Frank Theater in Rio Grande—just steps away from the new Tractor Supply. The plans were to include a movie theater, bowling alley, and beer garden. The new brick entrance off of Route 47 has been open for a while, but we don't know anything more about the project's status at this time.


George's Place is opening a location in Wildwood Crest at 6200 Park Boulevard, above the Starlight Fleet.

Up in Cape May Court House at 5 Court House South Dennis Road (right by Murasaki), Pier 1 has closed and Verizon has moved into the location. We've also confirmed that Starbucks will be moving in next to the Verizon store. They have a banner displayed on the building. The strip mall behind it that holds Staples and Acme looks to be getting a new facade. It's currently under construction.


South 9 Bar & Grille has opened at 1010 S Route 9 on the site of the former Atkinson's Restaurant. The restaurant has been under construction since late 2019 but finally celebrated their grand opening on May 8th. They're serving up burgers, seafood, meat, and pasta dishes.


We've also learned that Steak, Shakes and Cakes opened last fall at 20 Court House South Dennis Road.









from capemay.com