Friday, February 3, 2017 / by Teresa DiPeso
Search For Homes In Cape May, Avalon, Stone Harbor, Sea Isle City, The Wildwoods and More...CLICK HERE!


Chili & Chowder Cook-off, Sunday, Feb 19, 12-3:30pm, The Grand Hotel located at 1045 Beach Ave in Cape May
Cape May is heating things up this weekend with its 7th Annual Chili & Chowder Cook-off. Inside the beautiful Grand Hotel, the 5th Floor Oceanfront Penthouse & Lounge will be transformed into the tastiest room at the Jersey Shore. Chili and chowder will be prepared by the areas finest professional and home-style chefs. YOU pick the winners!
Kathy Griffin Live, Friday, Feb 17, 8pm, Borgata Hotel Casino & Spa in Atlantic City
Comedian and actress Kathy Griffin studied drama at the Lee Strasberg Theater and Film Institute, then became a member of the improv group The Groundlings. In the 1990's, Griffin began performing as a stand-up comedian and also appeared as a guest star in television shows, until landing her own weekly pop culture talk show, Kathy, where she continues to burn bridges as the original gossip girl.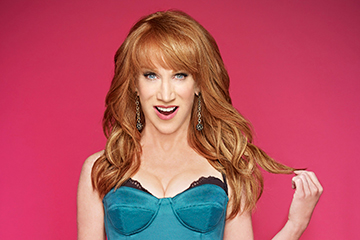 Broadway Musical Sing-Along, Sunday, Feb 19, concert begins at 7:30pm, Congress Hall in Cape May
This Sunday a fabulous deal awaits: for just $36, you can enjoy a pre-fixe dinner at the delicious Blue Pig Tavern, located in Congress Hall, and then head to the Grand Ballroom just steps away for a Broadway musical experience. Your favorite tunes will be performed by Myra Vassian, Broadway artists and you! Tickets for kids are $9.99. Tickets for just the concert (no dinner) are $15. For tickets, visit
this link
. Reservations must be made with the Blue Pig after purchasing your tickets.
Futsal Tournament, Friday-Monday, Feb. 17-20, various times at the Wildwood Convention Center located at 4501 Boardwalk
The Futsal tournament is an action packed, international form of indoor soccer. Teams consist of various age brackets and include more than 2,000 players from around the world! Prizes will be awarded to the winning teams as well as the top players. Games will be held from 6-9pm on Friday, 7am-11pm on Saturday and Sunday, and 7am-5pm on Monday. Admission is $10 per day, or $20 for all 4 days. Kids under 8 are free!