Saturday, May 15, 2021 / by Teresa Dipeso
After what felt like an incredibly long winter whose snowy tendrils extended well into spring, beautiful weather is finally making an appearance. So if the outdoors is calling, you must go. But as you uncover the patio furniture for the season, you may realize that it's time for a spruce-up.


As outdoor gatherings remain the best way to socialize safely, it's worth investing in some pieces that will give your space some flair. As we do every week, we delved into the world of design on Instagram to discover the best outdoor trends to help you kick off the summer season in style.


Found: patio design elements that channel vibes from bohemian to Victorian. Here are five of our favorite trending outdoor looks, plus all the details you need to steal them for yourself.


Black patio furniture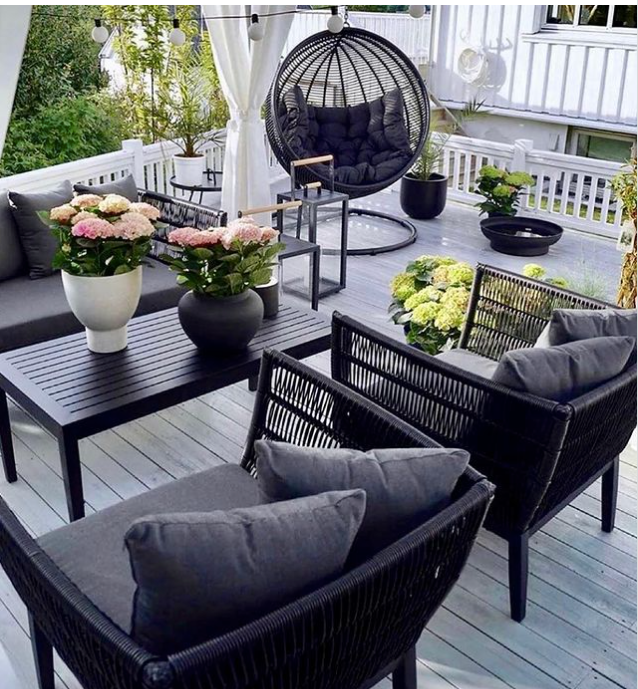 Black is back in a big way this season, and it all starts with this classy wicker patio furniture featured by @therealmlandreth59.


"This is a great antidote to typical teak or wicker outdoor furniture pieces," says designer Hope Scully of HHS Associates.


"By keeping all the furniture black, it contrasts nicely off other lighter or neutral pieces without feeling too overpowering," says Scully. "Adding a little bit of color with flowers also brings some great softer elements."
Funky wall mirrors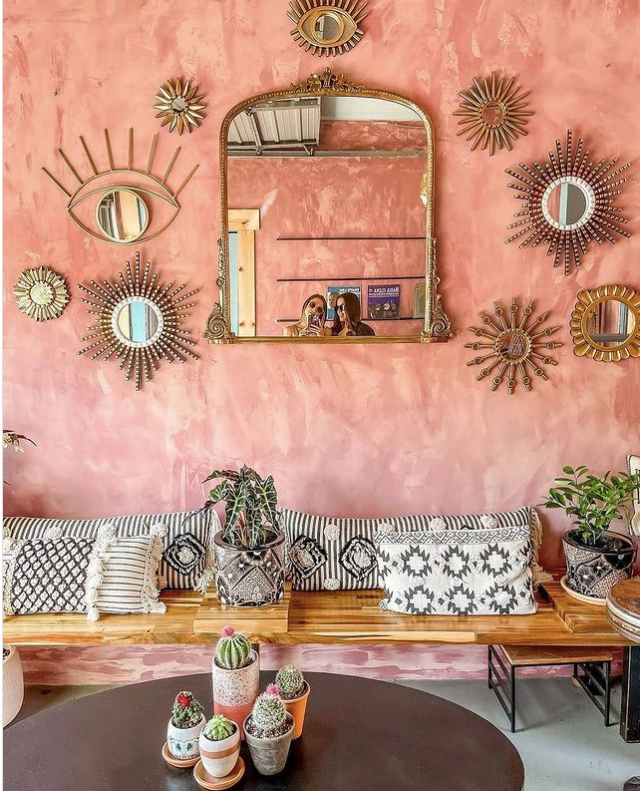 Mirrors are one of our favorite design elements indoors, so why not bring some of that light-reflecting magic into the backyard as well? Lucky for us, @tamale_house seems to have done just that.


"Funky wall mirrors have become an art in themselves," says Phillip Ash of Pro Paint Corner. "Similar to gallery walls, you can get fun and whimsical with what you add. The mirrored surface pulls it all together, so you're free to experiment with shape, size, color, and placement.


"If you want to ensure all the mirrors work together organically, consider matching the tones of your chosen metal to other elements—like the color of wood or other furniture," says Ash.

Iron benches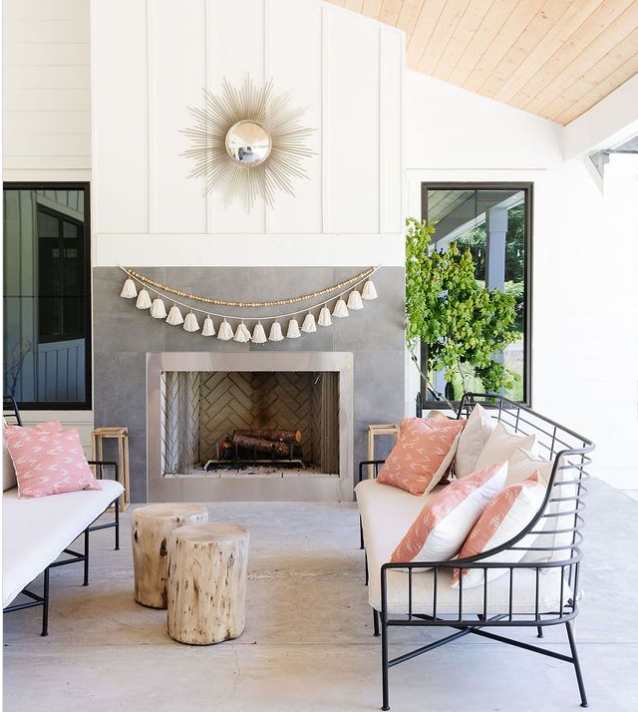 Much like the all-black wicker furniture, iron elements (like this gorgeous bench featured by @kristin_kgdesigns) are really ruling the roost this season. The best part? They complement each other perfectly.


"Iron benches are a really exciting outdoor decor trend in 2021," says Ash. "Cast-iron or wrought-iron benches have been a staple in English gardens for years, and what we're seeing now is a more delicate and modern style of bench, especially ones where you can add cushions.


"Iron is a great material for your patio or back garden—it's extremely dependable, tough, and corrosion-resistant, and the simplicity of the black iron plays well against a white cushion and a minimalist outdoor setup," says Ash.
Poured concrete–style table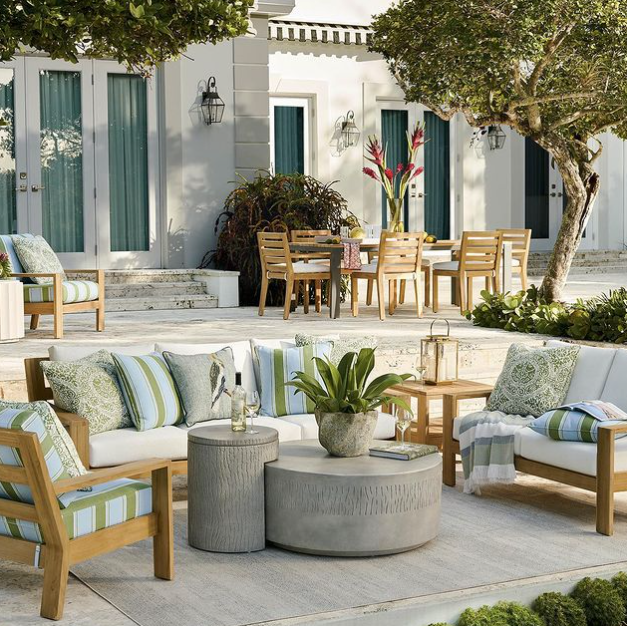 Concrete-style furniture is simple, chic, and durable. Furthermore, it goes with absolutely everything, as we can see in this post from @frontgate.


"These clever concrete 'bunching' tables give a sculptural feel to this outdoor space and help break up the boxy angles of the wood seating," says Scully.


"They also allow for varying heights, to add interest and functionality. Concrete is a great outdoor material because of its durability and complementary finish with wood tones and greenery," says Scully.


Victorian planters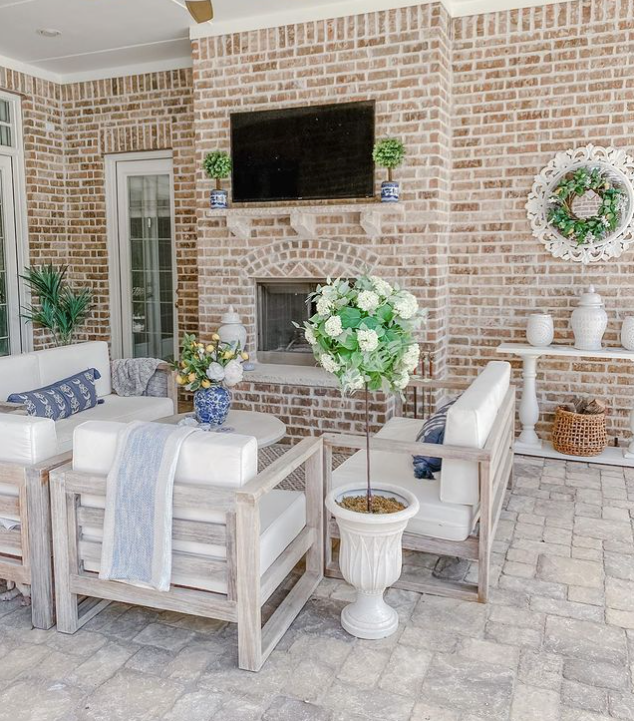 Planters are a dime a dozen this time of year, which is why we love the ones that really up the ante—like these Victorian-style planters featured by @shannongolddesign.
"Victorian planters go hand in hand with iron benches as pieces that conjure a stately, refined vibe," says Ash. "Keep them aesthetically clean, or plant a trailing vine like ivy to cascade down the sides.


"You can also use an iron trellis behind your planter to create a shape that you want your vine to grow, turning your Victorian planter into a work of art," adds Ash.
Get the look: Shop this collection of Victorian white planters (Home Depot; prices vary).